Main Content
All students majoring in Geography and Environmental Resources take a foundation of core courses to develop general geographic knowledge and skills. Our majors then choose from two specializations, Geographic Information Science (GIS) or Environmental Sustainability, that help students develop the analytical and research skills appropriate to their research and professional interests. Students can also choose many elective courses to gain additional specialized knowledge that complements their specialization. This makes the Geography and Environmental major sufficiently flexible for students with a ride range of career paths.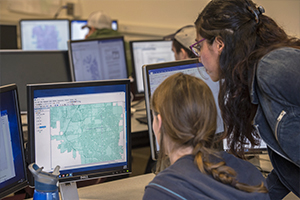 Geographic Information Science (GIS)
Geographic Information Science, or GIS, is for students who are interested in environmental applications of geospatial technologies, such as remote sensing. Technology is rapidly changing the ways in which we observe and analyze our environment, and our GIS specialization puts students on the cutting edge.  
Our program focuses on gathering, analyzing, visualizing, and understanding geospatial data with direct applications to societal problems. Students learn both geographic and cartographic theory, but also how to communicate their findings. This combination makes our graduates strong candidates for professional growth in a large and expanding geospatial job market.
Environmental Geography and Sustainability
In the most basic sense, environmental sustainability focuses on maintaining the needs of the current population without compromising the needs of future generations. Doing so requires consideration of environmental, economic, and social factors. Students in the Environmental Geography and Sustainability specialization combine knowledge of the natural environment, with understanding of human-environment interaction to support advancement of sustainability science. Professionals in this field are charting the path toward a sustainable future.
What do geographers do?
Geographers examine interactions between human activities and the physical environment. We study patterns of land-use, climate, vegetation, soils and water. The broad reach of geographic thought means that geographers work in a wide range of occupations, including atmospheric and environmental science, urban and regional planning, transportation, marketing, real estate, tourism, and even international business. Our professional organizing, the American Association of Geographers (AAG) maintains a useful career page for geography professionals.