Main Content
Laura Morthland

,

Program Director, Associate Professor
Interior Design
A member of SIU faculty since 2006, Laura Morthland currently serves as Director of the Interior Design program. Professor Morthland instructs students in a variety of foundational and advanced coursework related to design concepts, history, and interior finishing materials.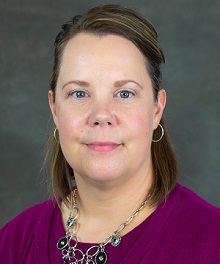 Phone: 618-453-3717
laurab@siu.edu
Office: Quigley Hall 131E
Research Interests
Collaborative & Interdisciplinary Pedagogy, Creative Learning
Education
Master of Interior Architecture, University of Oregon, Eugene, Oregon, 2003
Bachelor of Science in Interior Design, Southern Illinois University, Carbondale, Illinois, 2000
Certifications & Memberships
NCIDQ Certification since 2007
Member of Interior Design Educators Council [IDEC]
Member of International Interior Design Association [IIDA], Gateway Chapter
Courses Taught
ARC/ID 251 Design I: Concept
ARC/ID 252 Design II: Order
ID 331 History of Interior Design
ID 341 Interior Textiles & Finish Materials
ID 372 Interior Design Construction
ID 374 Materials & Specifications
ID 392 Design IV: Complexity
ID 432 Interior Design Seminar
ID 491 Design V: Corporate
Teaching Notables
2020 Top 10 Honorable Mention, G. Whittington; Course: ID 491
2017 National Winner, C. Cathcart; Course: ID 491
2015 Top 5 Semi Finalist, S. Dieasburg; Course: ID 491
2013 Top 10 Honorable Mention, T. Behl; Course: ID 491
Publications
Morthland, L.M., Schwartz, C., and Barnett, D. (2016, October). Lactation accommodation at SIU. Abstract presented at the 2016 Applied Science and Arts [ASA] Multidisciplinary Research Symposium, Carbondale, IL.
Cho, S., Kidd, L.K., Morthland, L.M. and Adkinson, S. (2015, November). Developing soft skills through multidisciplinary cooperative and situated learning. Paper of distinction Pedagogy Track. Paper presented at the 2015 International Textiles and Apparel Association Conference, Santa Fe, NM.
Schwartz, C., Morthland, L.M., & McDonald, S.S. (July, 2014). Building a social framework: Utilizing design/build to provide social learning experiences for architecture students. Architectural Theory Review, 19(1), 76-91.
Morthland, L.M. and McPeek, K.T. (2012, July). Blurring the line: An experiment in interdisciplinary design education. Virtual presentation at the 2012 International Conference, The Future of Education, 2nd Edition, Florence, Italy.