Main Content
B.S. in Hospitality, Tourism, and Event Management
Hospitality, tourism and event management are continuously evolving. That's why it's important to learn from experts who remain actively involved in the industry. And that's what you'll find here at SIU. Your professors are professionals as well as teachers. This is a real-world degree.
Your classroom experience includes fundamentals learning in our industry-quality facilities, including computer labs and a partnership with SIU facilities like Housing to provide commercial cooking experience. These partnerships are integral to the curriculum. 
Internships are critical to success in this industry. You'll have on-campus opportunities, and when it comes time for you to land that specific internship, you can count on your professors for guidance.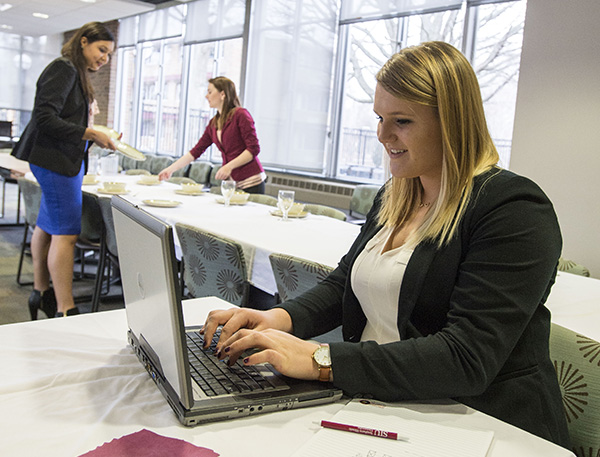 Degree Requirements
The Hospitality, Tourism and Event Management degree program can be earned by fulfilling the requirements for the Bachelor of Science degree.
Total Degree Requirements:

 

120 credit hours
University Core Curriculum:

 

39 credit hours
Professional Core:

 

23 credit hours
Hospitality, Tourism and Event Management Core Requirements:

 46

 credit hours
Approved Electives:

 

12 credit hours

Check out the undergraduate Curricular Guide, which helps you outline what courses you would want to take each semester for all four years. View all related undergraduate courses.
Online Option
The online HTEM program provides you with the flexibility to complete your bachelor's degree from anywhere. No matter if you are an incoming freshman or transferring from a community college or another university, our advisors will work with you to design a program that fits your schedule. The online HTEM program offers the same level of curriculum as the on-site degree and is taught by faculty who have over 60 years of combined industry experience.
The Undergraduate Certificate in Event Planning and Management is meant to enhance the marketability of students who wish to pursue careers in meeting and special event planning and management.
The PDS program is meant to boost job opportunities for students interested in management of food and beverage operations. 
Minor
Flavor your major with a HTEM minor. HTEM pairs well with any major, and expands your marketability in the job market.
---
Registered Student Organizations are great for polishing your leadership skills and for gaining practical experience. Check out these HTEM-affiliate student groups, and get your event organization skills ready.
---
Internships
Most students will complete at least two internships for credit. These internships are structured to provide real-world experience and to help students build their resumes and land a job. All told, you'll have about 800 internship hours upon graduation. That's the kind of experience that often leads directly to employment! Our Internship Package (pdf) will help with any questions you may have.
The first internship is on campus with SIU Athletics, Conference & Scheduling Services, or at Touch of Nature Environmental Center. Students typically complete four to six weeks of classroom training, followed by a ten-week internship.
The second internship is off-campus near Carbondale, St. Louis, Chicago, or other metropolitan areas. This internship should directly relate to the student's chosen career area. Popular internship partnerships include Marriott in Chicago, Hyatt in St. Louis, Lodging Hospitality Management in St. Louis, and Disney.
Some students choose to pursue their own internships, such as with the St. Louis Blues. Others take advantage of the opportunities surrounding SIU, such as national and state forests and parks, the Shawnee Hills Wine Trail, microbreweries, event venues, and tourism facilities.
The College of Business and Analytics supports its students through every step of their educational pursuit.
The college has many need-based and merit-based scholarships available exclusively to business students.
At SIU, many students from the College of Business and Analytics live in a residential setting known as Living and Learning Communities (LLCs). These provide a space and a structure for people to align around a shared goal. Students living in an LLC enjoy getting to know professors and classmates better, greater access to academic resources and specialized programs right in their residence halls.
Our program is accredited by the Accreditation Commission for Programs in Hospitality Administration and is an institutional member of the International Council on Hotel, Restaurant, and Institutional Education. Our program has been ACPHA Accredited since 1995.
The SIU College of Business and Analytics has a well-established, one-month study abroad program in France with our partner school, Grenoble Graduate School of Business. This program occurs from mid-May to mid-June every year.
The SIU College of Business and Analytics faculty and staff pride themselves on providing top-quality services to their students. Whether you are a prospective or current student, we are here to serve you.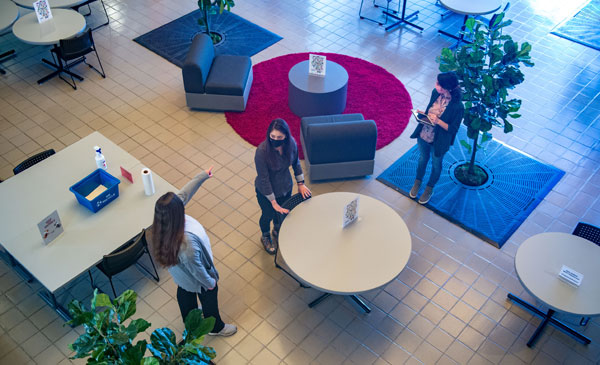 Contact Information
For more information or for advisement questions, contact:
Niki Davis,
Program Director
Quigley Hall 207 C
875 S Normal Ave
Carbondale, IL 62901
Phone: 618-453-5193
ndavis@siu.edu
Patricia Burns,
Academic Advisor
Rehn Hall 127 A
1025 Lincoln Dr
Carbondale, IL 62901
Phone: 618-453-7496
triciaburns@siu.edu