Main Content
Attendance
As a Federal Aviation Administration (FAA) certified aviation mechanic training program, SIUC's School of Aviation must ensure students meet the requirements of the FAA's Aviation Mechanic's Airman Certification Standards (ACS). The standards require students comprehend many knowledge subjects, as well as demonstrate many hands-on laboratory projects; therefore, attendance is mandatory for all Aviation Technologies courses. Instructors are required to track the successful accomplishment of all ACS knowledge, risk management and skill requirements. Students are expected to be in lecture and lab, on time, for all course meetings.

Determination as to whether an absence is "excused" rests solely with the instructor. Examples of "excused" absences may include: an illness accompanied by an SIU Student Health Services note stating the illness "precluded the student from attending course meeting(s)" including a date range of necessary absence; a documented death in the students immediate family; a U.S. Military Reserve Component training activity accompanied by a memorandum from their unit commander stating the "training activity is mandatory and not available outside of the scheduled SIU School of Aviation course meeting time(s)" including a date range of training. It is the student's responsibility to contact the instructor in advance of absences or immediately thereafter to coordinate a time to accomplish missed subjects and/or laboratory projects.

If for any reason (excused or unexcused) a student misses more than twenty percent of lab and/or lecture meetings during a single semester-long course, they will not be able to complete the course and will receive an "Inc" or "F" for a course grade at the discretion of the instructor.

Unexcused absences or habitual tardiness will result in a cumulative reduction of the student's final course grade point average. The first unexcused absence results in a one-point reduction of the final grade (0-100 scale); the second unexcused absence results in a two-point reduction; the third results in a four-point reduction; the fourth results in an eight-point reduction; the fifth results in a sixteen-point reduction. After the fifth unexcused absence, the cumulative grade reduction would be 31 points, making it impossible to receive a passing grade for the course. Three late arrivals will be counted against the student as one unexcused absence. Performance of make-up work does not reinstate points lost due to unexcused absences.
Respect for Building and Equipment
Students should not operate or tamper with equipment without permission from an instructor. If you do not totally understand the operation of an item of equipment, ask your instructor for assistance.
Do not stand or sit on equipment (including tables and work benches).
Use proper containers for disposal of waste. Throw cigarette butts, empty soda cans, candy wrappers, and all trash paper into disposal cans provided.
Confine food and beverage consumption to the lounge area.
Student cars should not be parked in the faculty area of the parking lot.
Have respect for the Airport grounds—stay on the sidewalks as much as possible.
Offices in the Aviation Technologies building are not to be used as lounges. Use only for official business.
All instructors have office hours posted. Please make an appointment with them to conduct student business.
The integrity of each student is naturally assumed; however, it is also expected that all students help to insure the integrity of his or her fellow students.
If a student finds himself or herself witnessing a breach of integrity and feels he or she cannot correct the situation at that time, report the incident to an instructor. Your report will be kept in the strictest confidence.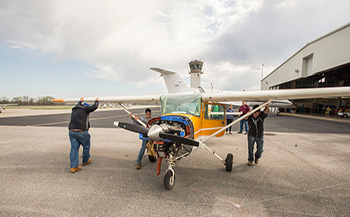 Grades
A = 90 – 100
B = 80 – 89
C = 70 – 79
D = 60 – 69
F = Below 59
Note: A minimum grade of "C" is required in all AMT and AVT courses.
Lab grades are evaluated by each individual instructor. The grade is a sum total or average of the instructor's evaluation of your performance of lab projects assigned to you.
In order to graduate and to remain on a Good Standing status, students must maintain a minimum of a "C" average in their classes.
If you're having problems with a particular course, make an appointment with the instructor of that course as soon as possible. Don't wait until the last minute. The instructors will help you if they can.
Instructors' grades are final. All grade changes are limited to computer error. Matters related to faculty judgment in grading may not be appealed (SIUC Undergraduate catalog). Any questions regarding grades must be resolved within 30 days (20 working days) of issuance of the grade in question.
Note: Due to the Privacy Act, grades must be posted using a "secret ID."
Safety
Safety is your job. Correct any unsafe conditions immediately.
If the situation warrants a simple solution, the students are expected to make the necessary correction, i.e., wipe up an oil spill on the hangar floor.
Do not hesitate to report an unsafe condition to your instructor.
During your courses, you may have an opportunity to work on flyable aircraft. Many of the aircraft in the hangar are operational. Hangar pilots are not tolerated! Students should not enter an aircraft without permission from an instructor. If you notice an unsafe condition of the aircraft, report it to your instructor immediately and take it upon yourself to see that the condition is corrected.
If you accidentally damage something, such as an item of equipment or aircraft parts, report it immediately to your instructor. No price is too much to pay when dealing with human life. Honesty is always the best policy. An honest person has always been held in high esteem among the staff at SIUC.
Be neat and orderly when laying out your work. This helps to avoid overlooking any steps in the procedure. A small piece of dirt or metal shaving may pose a safety hazard. Keep your job area and the Department clean. It is a direct professional reflection of you!
Take pride in yourself and your work! Pride plays a most important part in your job performance. A job done with pride in mind is done with safety in mind. Remember, when you are finished with the job, you will be expected to be proud enough to sign your name to it and/or fly in it.
No horse-play will be tolerated.
SMOKING. SIUC is a smoke-free environment. No smoking is allowed within 25 feet of the door of an SIU facility.
CHEWING TOBACCO. The use of chewing tobacco is not allowed in the classrooms or laboratories.
NOISE PROTECTION. Each student shall have available ear protection to protect his or her ears from excessive noise from operating aircraft or laboratory equipment.
EYE PROTECTION. An attempt has been made to provide sufficient face-shields in areas of eye hazards. The student is expected to make use of this safety equipment. Absence of appropriate equipment should be reported immediately to the instructor.
PERSONAL WORK IN THE LABS. Work on personal equipment in the lab is prohibited, unless it is done as part of the regular course work and with the permission of the instructor. In most cases, it will be necessary to have written permission of the Department Chair for work to be accomplished.
Hand Tools
Aviation Technologies students are required to have an approved tool kit in the laboratories.
Adequate time will be given to the purchase of a tool kit.
If hand tools are a required item for a lab, the student is expected to have them available and in the building. Failure to have tools available may result in the student being counted absent. If you show up in lab with no tools, you will receive an absence for that lab and each lab thereafter, until a tool kit is purchased.
Private Aircraft
Students having privately owned aircraft based on the Southern Illinois Airport are required to register these aircraft at the Airport Authority Office. A nominal tie-down fee is required. At times, individual hangar space is available on the field at nominal rental fees.
Facilities
The Aviation Technologies building is open Monday through Friday from 7:45 a.m. to 5:00 p.m. No students will be allowed in the building after 5:00 p.m. without the direct supervision of a full-time staff member or an authorized laboratory assistant.
Aircraft, other than SIUC aircraft, are not allowed in the Aviation Technologies hangar unless special approval has been given for their use as maintenance training projects.
Tools and equipment owned by the Department will be utilized only for scheduled course activities and approved work sessions.
Aircraft parked on the ramp may be privately owned transient aircraft. Students should stay away from these aircraft unless they are invited by the owner/operator to give it a closer inspection.
Because of extreme hazards associated with operating aircraft, propellers, turbine exhaust, and helicopter rotor systems, students must always exercise care when they are on the ramp for any purpose.
Transportation
Bus Service – The Saluki Express provides bus transportation between the campus and the airport. Bus schedules and route information are available on the Aviation Technologies Bulletin Board. All students attending courses in Aviation Technologies are encouraged to use this bus service as their primary means of transportation to and from the Airport.
The University has established very specific motor vehicle regulations which are applicable to all students. All students operating a motor vehicle on, or parking a vehicle on, Southern Illinois University, Carbondale property, must register their vehicle with the University Parking Section. The complete Regulations Book is available from the University Parking Division.
Special transportation problems or questions should be discussed with the Aviation Technologies Advisor.
FAA Examinations
In order for an applicant to obtain an FAA Mechanic's Certificate with an Airframe and/or Powerplant rating, the applicant must pass FAA written exams, and oral and practical exams.
The written exams are currently administered by FAA designated personnel and can be taken upon completion of the appropriate curriculum and the receipt of the appropriate FAA Airframe or Powerplant Graduation Certificates. The Graduation Certificate must be presented in order to take the written exams. Written exams can be taken at FAA designated testing facilities.
The oral and practical exams are given by other FAA designated personnel or by Aviation Technologies staff members who have been designated by the FAA as Mechanic Examiners. In an effort to better serve the students, the following procedure will be followed:
The applicant will have successfully passed the written exams pertinent to the rating(s) he or she is seeking.
The applicant will register with the Department secretary who will place his or her name on a waiting list. Applicants will be taken on a first-come, first-serve basis. An examiner will be assigned at that time.
Examiners will be assigned applicants in order, as dictated by the waiting list. There will be no choice by the applicant as to which examiner will administer the exams.
The examiner can serve two applicants at a time with the time being arranged by the examiner.
An individual toolbox will be required for each practical exam. Paper, pencil, reference books, multimeter, and calculator will be required for all parts of the exam.
If a section is failed, you must register again with the Department secretary, and an examiner will then be rescheduled for the retake.
The applicant must wait 30 days before retake or he/she must present a letter of competency as per FAR's.
Practical and orals tests are not learning experiences.
Attire
Proper attire will be expected while attending Aviation Technologies.
Open toed shoes will not be permitted in the hangar or laboratory environments.
Department Preliminary Tests
After satisfactory completion of mathematics and the Airframe and/or Powerplant courses, all students are required to pass preliminary exams prior to the issuance of FAA Airframe and Powerplant Graduation Certificates.
Preliminary exams are part of the FAA approved curriculum of this program and are, therefore, mandatory.
Students taking prelims in the airframe and/or powerplant sections for the first time must also take the General Prelim.
A minimum grade of 90 per cent or above is required on each individual exam in order to pass.