Main Content
Bachelor of Science in Aviation Technologies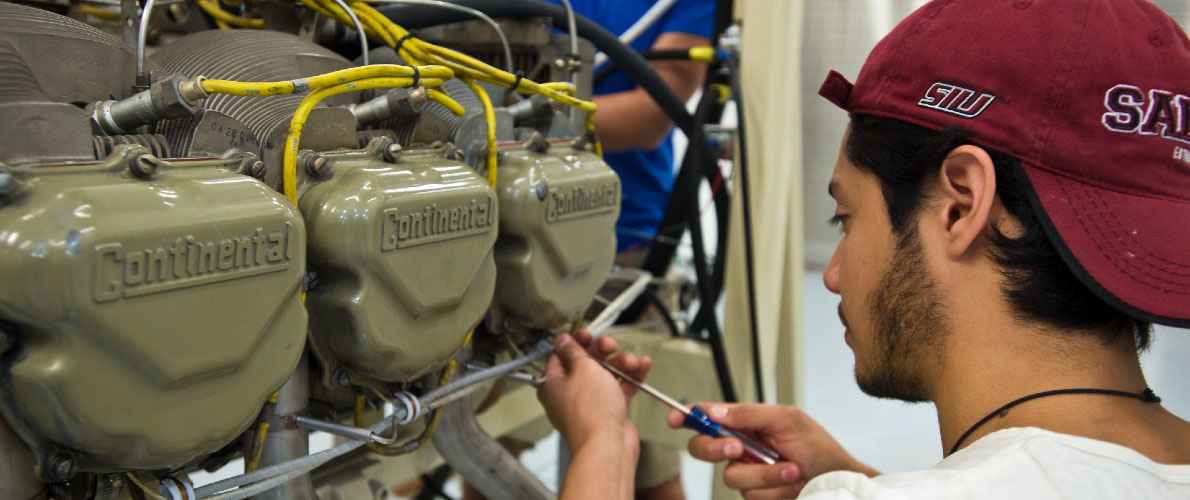 Whether it's general aviation or commercial transport aircraft, aviation enterprises require highly trained technicians to manage hardware, troubleshoot systems, repair airframe structures, and maintain powerplant (engine) systems.
Our courses are developed following Federal Aviation Administration (FAA) guidelines in consultation with field experts and alumni, to ensure our graduates' strength in essential skills while providing exposure to cutting-edge technology and the broad educational experience necessary to thrive in today's competitive environment.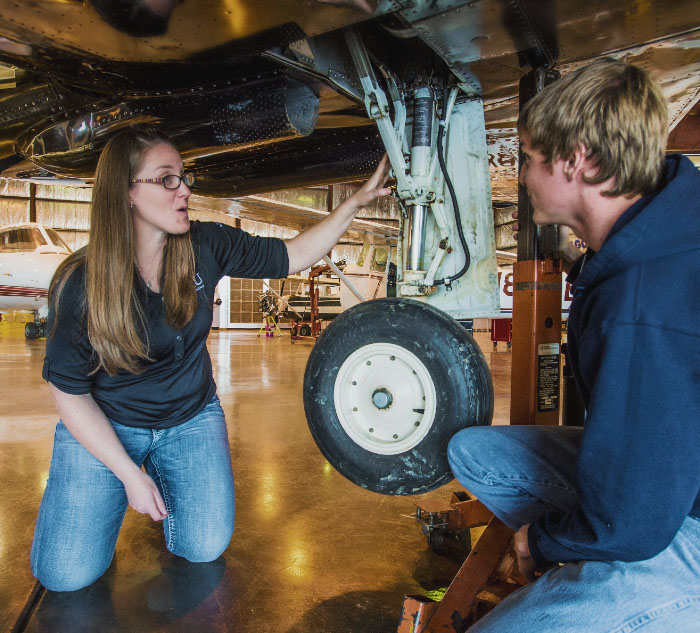 Bachelor of Science
The undergraduate major can be accomplished by fulfilling the requirements for the Bachelor of Science (BS) degree.
Total Degree Requirements: 120 credit hours
University Core Curriculum: 39 credit hours
Specialization Requirements: 30-46 credit hours
Internship/Cooperative Experience*: 12credit hours
Technical or Career Electives:

 

15-39 credit hours
*Only required as part of the B.S. Aviation Technologies - Aviation Maintenance Management Specialization

Check out the Curricular Guides: Aircraft Maintenance | Helicopter Maintenance | Aviation Electronics | Aviation Maintenance Management which helps you outline what courses you would want to take each semester for all four years. View all related undergraduate courses.
Optional certification paths within the major's curriculum provide a great deal of flexibility in preparing for a career in aviation, and can even facilitate earlier entrance into the professional workforce. Students may pursue the FAA Airframe and Powerplant (A&P) certification in a five-semester sequence of coursework, making them eligible for many entry-level jobs in aviation.
(Most students choose to fulfill the A&P components in conjunction with additional coursework to complete the B.S. degree in Aviation Technologies.)
Minors

Aircraft Product Support: This interdisciplinary minor is for those who want to work in aircraft product support with aerospace manufacturers, suppliers, airlines, the miilitary, or other parts of the aviation and aerospace industries. The minor may complement the Aviation Management or Aviation Technologies majors.
Unmanned Aircraft Systems: This minor provides SIU students the opportunity to advance their technical knowledge in unmanned aircraft systems design, operations, maintenance, and management. The Unmanned Aircraft Systems minor is available to all SIU degree programs and majors.
The Aviation Technologies program offers four available degree specializations.
Major specializations include:
Advanced Aircraft Maintenance
Aviation Electronics (Avionics)
Helicopter Maintenance
Aviation Maintenance Management (online)
Restricted Air Transport Pilot (R-ATP)
The FAA has approved a modified version of the Restricted Air Transport Pilot, or R-ATP, for SIU Aviation. That means that students majoring in AF and AVT will now qualify for the full reduction in the R-ATP hours!
Besides adding the AVT major to the R-ATP document, we have also added the following specific classes to count towards R-ATP:
AF 202, 203, 204, 207A (Commercial) and AF 205, 206A, 206B (Instrument) Required.
AVT 101—Applied Sciences
AVT 112—Aircraft Electricity
AVT 203—Aircraft Aerodynamics
AVT 305—Cabin Environment and Jet Transportation Systems
AVT 405—Flight Management Systems
For SIU Aviation Flight and SIU Aviation Management students, this opens up new options for completing your R-ATP hours. The policy allows a three-year look back, which means graduates in the past three years can qualify under this modification.
Please contact Bryan Harrison, Associate Professor at bryanth@siu.edu with any questions.
Online Completion
Aviation Maintenance Management is an online degree completion plan that offers already-working professionals who are graduates of two-year FAA Part 147, avionics, and other aviation-related programs, the means to finish a Bachelors of Science degree in Aviation Technologies entirely through distance education.
This individualized curriculum empowers non-traditional students to use previous coursework from an accredited institution—and/or related job experience—as completed required credit hours applicable toward earning their SIU bachelor's degree.
Instructional facilities include a 60,000 square-foot hangar and classroom building at the Southern Illinois Airport. A 12,000 square-foot Helicopter Laboratory also houses equipment used in the Helicopter Maintenance specialization.
Scholarships & Funding
We recognize the importance of a quality academic experience, and are dedicated to helping you achieve your higher education goals.
Our university awards more than $10 million in scholarships annually to undergraduate students—with more than $6 million each year distributed to new students.
Internships & Externships
Our graduates are in high demand as aircraft technicians, flight systems specialists, technical representatives, technical project managers, and other aviation leadership positions. Our strong academic reputation means industry titans are clamoring for our students in their organizations. Recent SIU aviation internships include:
The Boeing Company
Rockwell Collins
GE Engines
GOGO Inflight Internet Company
Gulfstream Aerospace
United Airlines
American Airlines
Student Organizations
We urge our Aviation Technologies majors to expand their network and explore new skills through registered student organizations. Among the hundreds of active student groups on campus, our program-specific organizations include:
Alpha Eta Rho
Association for Women in Aviation Maintenance
Aviation Management Society
Aviation Technologies Ambassadors
Detail Dawgs
National Gay Pilots Association
Rotor and Wing International
Women in Aviation
Contact Information
For more information about the program or to request information, contact:
Chris Milazzo
Academic Advisor
Trans Educ Center (TEC) 126 D
545 N. Airport Rd.
Murphysboro, IL 62966
618-453-5485
cmilazzo@siu.edu
José Ruiz
Interim Director, Professor
Trans Educ Center (TEC) 286 G
545 N. Airport Rd.
Murphysboro, IL 62966
Phone: 618-453-8885
jruiz@siu.edu