Main Content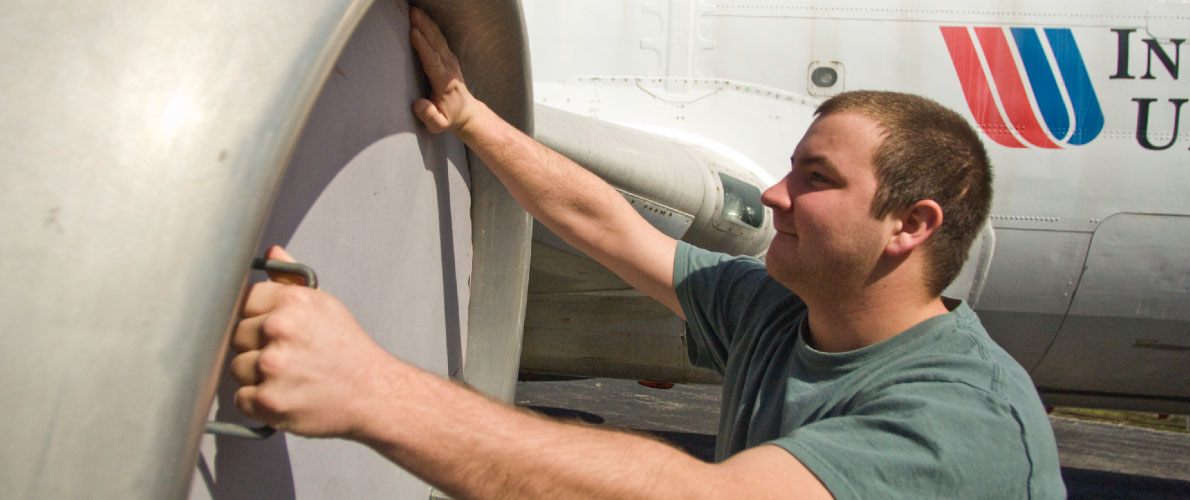 Launching success through first-class education.
At SIU, the sky is not the limit. Our Aviation Technologies curriculum is ranked among the best in the nation, continuously evolving with valuable input from industry representatives and the Federal Aviation Administration (FAA).
Aviation, the only global-scale rapid transportation network, is in constant need of talented professional technicians. Graduates of our academically elite program are uniquely positioned to enter rewarding careers—in a booming field that generates economic growth, creates jobs, facilitates international trade, and supports tourism.
Jump into a high-tech profession by completing your bachelor's degree in aircraft maintenance, helicopter maintenance, or avionics—or through our new online program in aviation maintenance management.
You'll learn by field immersion, standing side-by-side with professionals while taking apart a jet engine, rebuilding and testing it; creating a wing and sending it through subsonic wind tunnel trials; fabricating a hydraulic line; and sticking your head into the belly of a Boeing 737 to troubleshoot electronics and pressurization systems.
Our carefully-crafted major specializations put our graduates in high demand as aircraft technicians, flight system specialists, technical representatives, technical project managers, and other leadership positions.
We offer four specializations:
Advanced Aircraft Maintenance
Aviation Electronics (Avionics)
Helicopter Maintenance
Aviation Maintenance Management (online)
FAA Airframe and/or Powerplant Certificates are traditionally among the first items you'll earn on your aviation résumé—this is where your bachelor's degree begins. This training provides the required technical foundations for the advanced coursework to obtain the degree. Though students do have the option of seeking only the certificate and not the full degree. (To finish the degree, you must earn certification at SIU or another approved program.)
Certification leads to careers in aircraft mechanics, and employment with major airlines, commuter lines, corporate flight, aircraft and engine manufacturers, or general aviation operations.