Main Content
Associate of Applied Science in Aviation Flight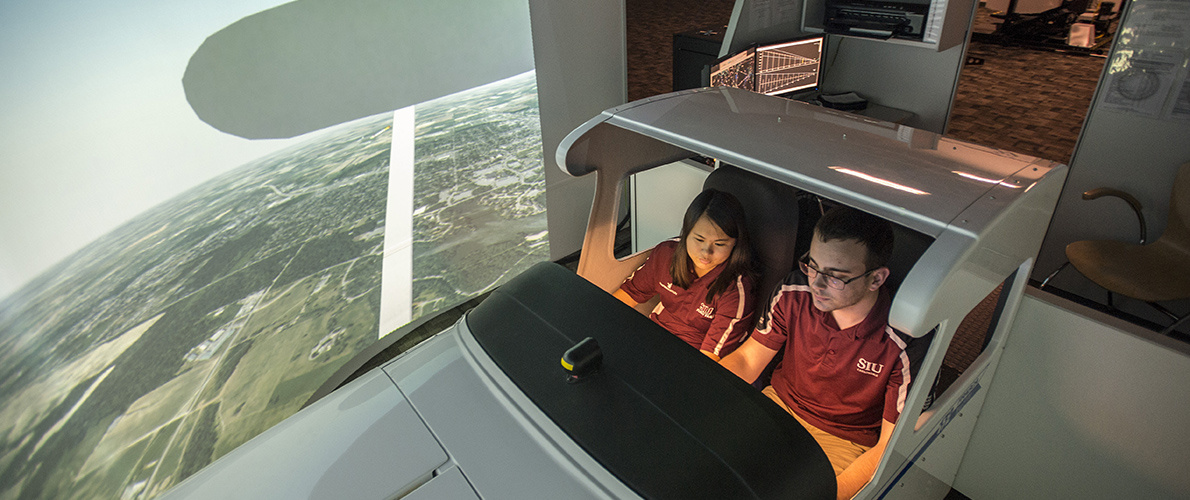 You'll earn an Associate in Applied Science degree, and be well on your way to a career as a professional pilot. You'll begin flying your first semester, and you can begin working as a Certified Flight Instructor (CFI) in your senior year.
Flight instruction is at the Southern Illinois Airport, adjacent to our Transportation Education Center. Our courses are Federal Aviation Administration-approved, and FAA-designated check pilots will keep an eye on your performance during your flight courses. Your theory courses complement your flight courses.
The mission of SIU's Aviation Flight Program is to provide comprehensive flight education to prepare professional pilots to meet the current and future demands of the aviation industry. Our program is proud to be AABI Accredited.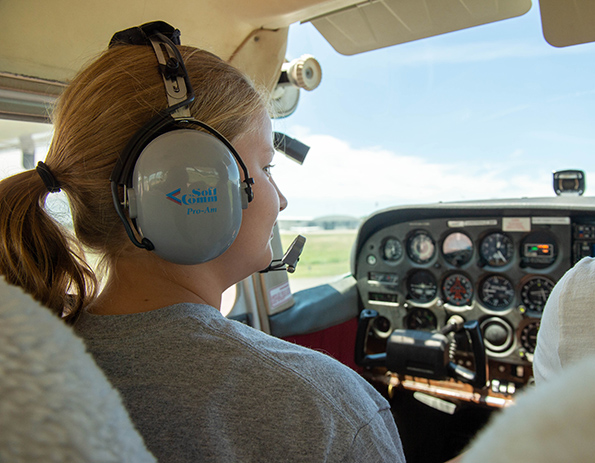 Associate of Applied Science
The undergraduate major can be accomplished by fulfilling the requirements for the Associate of Applied Science in Aviation Flight Degree.
Total degree requirements:

 60

 credit hours
University core curriculum:

 15

 credit hours
Aviation Flight Courses: 24 credit hours
Aviation Flight Technical Courses: 21 credit hours

Check out the A.A.S. Curricular Guide, which helps you outline what courses you would want to take each semester for both years. View all related undergraduate courses.
Two-Plus-Two program with Aviation Management
You can complete your Associate in Applied Science in Aviation Flight in two academic years plus one summer at SIU, or in cooperation with a community college or extra-instructional education. However, to earn the SIU degree, you must complete 21 semester hours of aviation flight at SIU. Other options may be available for those already holding a Private Pilot certificate.
Most of our flight graduates also earn a Bachelor of Science in Aviation Management at SIU. The "Two-Plus-Two" curriculum sets you on course to complete both degrees in four years.
This combination sets you up for internship opportunities with such companies as United Airlines, Delta Airlines, American Airlines, and others.
Transfer Program
Aviation Management accepts transfer credits from colleges, universities, and community colleges from around the nation in order to facilitate the transfer of aviation students to SIU. The course transfer agreements take full advantage of the Capstone Option for admission to the Bachelor of Science in Aviation Management.

The Transportation Education Center (TEC) officially opened in the Fall of 2012 at the Southern Illinois Airport, which ranks as one of the busiest airports in Illinois. As a full-service facility, the airport provides three lighted all-weather runways and an array of aircraft and pilot services. The TEC 185,000-square-foot structure houses the Aviation and Automotive Departments.
Safety Management System
The Aviation Management and Flight programs recognize that an effective Safety Management System (SMS) is vital to the success and longevity of the Aviation Flight Program. Therefore, we are committed to the implementation and maintenance of a fully functional SMS and to the continuous improvement of the SMS throughout the airport and flight training environment. This will help create a strong safety culture and enable all employees, students, and guests to operate in a safe environment.
Flying Salukis
Add your name to our championship legacy! Our Flying Salukis have won multiple championships at the National Intercollegiate Flying Association championships. We've finished in the top three every year since 2010, and we hold nine national titles.

Student Organizations
Students at SIU are urged to join student clubs and organizations as a means to meet a diverse population of people that allow you to expand your thinking and interest. At the same time, joining a club or organization allows you to develop leadership skills within an environment of your peers.
Simulators
With tremendous facilities and instructors, we offer top-notch flight training with the feel of a small school. Our students have access to a modern fleet, including Cessna 172s, Cessna 152s, Cessna 310s, and Piper Arrows. While going through the Aviation Flight courses, students will train on our simulators a number of times. Our facilities are equipped with 8 different simulators that all vary in purpose.
Fleet
Our aviation fleet is composed primarily of Cessna aircraft. In 2018, we added three Piper Arrows to the fleet to support the flight program and allow students to ease into new aircraft types as their training progresses.
Contact Information
To learn more about the program or request information, contact:
Steve Goetz
Chief Flight Instructor
Trans Educ Center (TEC) 286 Q
545 N. Airport Rd.
Murphysboro, IL 62966
Phone: 618-453-9247
sgoetz@siu.edu
Susan King
Academic Advisor
Trans Educ Center (TEC) 126 C
545 N. Airport Rd.
Murphysboro, IL 62966
Phone: 618-453-9224
sjking@siu.edu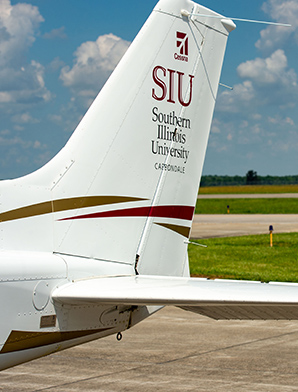 Scholarships and Funding
At SIU, we've made it part of our mission to dismantle anything that stands between people and discovery. Whether through scholarships, grants, or loans, we put your college experience within reach.