Main Content
The spirit of research is inexhaustible and ongoing. Each new group of students brings with it new questions and new perspectives. Whatever your passion – whether it's finding ways to prevent colic in horses, or the most humane way to raise healthy hogs, or to find out if supplements really work – you'll find a way to pursue it here. We'll help. We'll collaborate. And we'll applaud your personal successes.
Nutrition. Reproduction. Those are areas where faculty and students have focused on multiple research projects. Recent projects and research areas include:
Rumen fermentation
Lipid metabolism
Animal forage and fescue toxicosis
Soy utilization in food and feeds as related to human health and animal production
Nutrient availability in genetically modified crops
Growth performance as influenced by environmental factors in swine
Enhancement of CLA and Omega-3 fatty acids in animal products and their relationship to human and equine health
Ovarian folluculome in horses
Gene expression and hormone receptors involved in follicle selection and ovulation
Endocrine and morphologic changes of imminent ovulation
Ovarian tissue transplant
Probiotics
Working animal performance
Metagenomics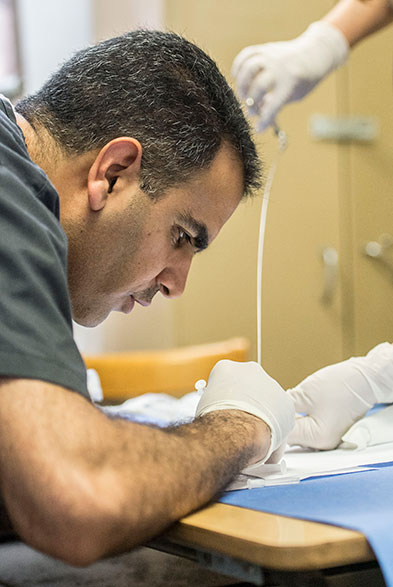 Undergraduate
Canine decontamination.
Undergraduate REACH award research into the biocidal impact of wiping dogs with chlorhexidine to prevent bacterial cross-contamination. The study involves investigation of bacterial data. Maurnice Scott.
Supplemental fiber therapy in dogs.
Undergraduate REACH award research into he use of supplemental fiber therapy to prevent diarrhea in dogs. The study includes investigation of bacterial data and fecal scores. Daisy Kaplan.
Graduate
Dog food analysis – published research.
What are the effects of natural antioxidants on the stability of omega-3 fatty acids in dog food. Florentina Glodde.
Palatability in horses.
An investigation of flavor preferences of nursing foals and her work involves caring for horses in the SIU herd, monitoring their intake, recording feeding behaviors, and analyzing data. This is an extension of research testing flavor preferences in gestational mares. Cierra Crowell.
Electrolyte efficacy in horses.
Also a study of palatability of equine oral electrolyte supplements, this study uses palatability tests, bloodwork analysis, and behavior and performance data. Grace Handlos.
Dermal health recovery in canines following decolonization of dermal microbiota.
A study of the mechanism of health recovery that investigates skin health and analysis of microbiome data. Dakota Disepolo.
Canine skin health in relation to traditional collars.
An investigation of force potential against the canine neck when dogs are allowed to pull in traditional collars. Behavior and performance data analysis is the foundation of this study. Josh Bailey.
Dog food analysis.
The stability of omega-3 fatty acids in pet food. Tess Schaefer, Faith Glancy, Jera Smilanich.