Main Content
Put on your barn clothes or your lab coat. In this major, you're going to be busy! Here is an overview of where Animal Science majors and faculty work and learn. You aren't limited to just these facilities, of course, but these are the primary spaces for this major.
University Farms
University Farms is a 2,000-acre farm system that is the core of the Animal Science teaching program. The farms are adjacent to campus – you can even take our Saluki Express bus system to some of the barns.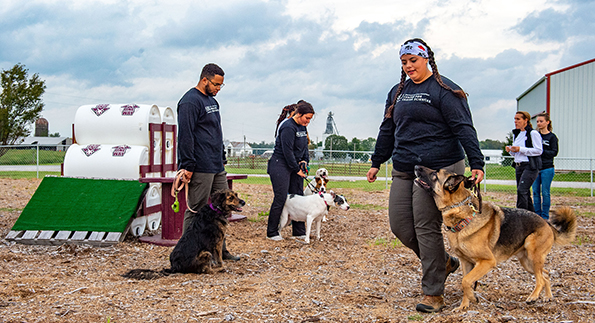 Beef Center
Calf barn
Steer feeding barn
Beef research barn
Research and teaching headquarters
Hay storage
Pasture
Swine Center
Farrowing house
Breeding
Finishing operation
Research and teaching headquarters
Swine waste treatment center
Hog grainery
Equine Center
Horse breeding barn
Horse Physiology and Metabolism Center
Teaching / classroom space
27-stall stable with 4 foaling stalls and 23 regular sized stalls, wash racks and tack rooms
Indoor riding arena
Outdoor riding and show arena with jumping, barrel racing and trail class equipment
Round pen
Access to bridle paths/trails
Horse boarding available for majors and non-majors – bring your horse to college!

Research Labs
Our labs are the barns and fields, mostly. But you'll also work in "lab coat" labs, too. Here are some of the classes that will get you into hands-on science laboratory work:
Biochemical Aspects of Nutrition
Comparative Endocrinology
Reproductive Physiology
Animal Genetics
Artificial Rumen Continuous Fermenters Lab
You'll also meet our cannulated cow. She has been fitted with a cannula port, which gives us access to her rumen and aids in the study of the bovine digestive system.
We emphasize research and individual projects for our students even from freshman year. It's the best way to learn.
Canine Sciences Research Program
The Canine Sciences research program is dedicated to teaching and research focused on improving the health and performance of working dogs in all disciplines.
Climate-controlled indoor kennels
Outdoor kennels
1,200 square foot training yard dedicated to teaching agility, proprioception skills, olfaction skills, obedience and distraction training
Indoor olfaction training room (target odors introduced in a clean space)
Scent wheels and state-of-the-art odor containment devices
8,000 square foot rubble pile to simulate disaster search scenarios with additional search scenarios including wide area and water search areas
Barrel field for teaching wide-area scent discrimination
Feed Mill
Micro-nutrient mixing
Ration formulation
High tech / industry standard
Bull Test & Beef Evaluation Center
Cattle working shelter
Scale house
Evaluation Station
Bull management and test station