Main Content
Bachelor of Fine Arts in Musical Theater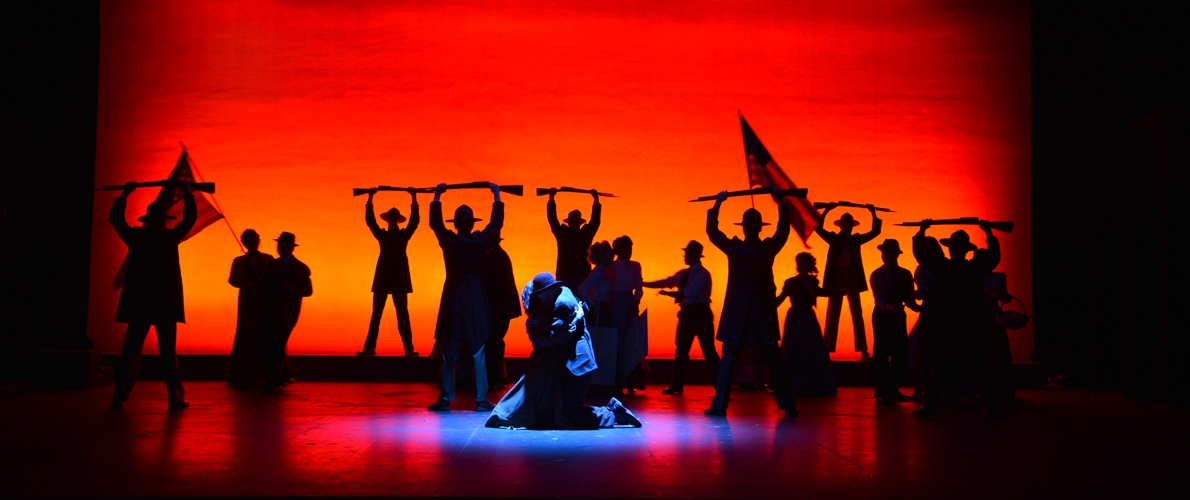 The Show Goes On
The mission of the Musical Theater program is to offer small class sizes with focused, individualized instruction in singing, dancing, ear and voice training, acting and movement. The competitive yet highly-involved program gives you the freedom to grow as a performer while improving on the talents and knowledge you bring with you to SIU.
While earning your Bachelor of Fine Arts in musical theater, you can expect to be immersed in the world of performing arts surrounded by faculty members who hold a wide range of professional performance experience. Our program nurtures talent to produce confident, experienced performance artists ready to begin a successful career in musical theater.
Graduates leave with an exceptional level of technical training in singing, dancing and acting along with a strong understanding of how to approach, interpret and develop the performing arts. Beyond the technical and analytical components of this program, students also have abundant opportunities to participate in formal performances.
This highly specialized program offers a curriculum that strikes a balance between applied practical training and theoretical coursework. Courses provide intensive training in areas such as basic harmony, theater voice, stage makeup, movement for the actor, directing, dance for musical theater and audition techniques. Analytical courses offer instruction in play analysis, directing, the history of theater and musical theater, and literature.
Throughout all eight semesters of the BFA musical theater program, each student's training is monitored to ensure progress is being made in public performances. In both solo and ensemble work, the artistic skills of each student are observed in acting, dancing, singing and movement. Performance projects and written and oral exams are also assigned to allow for testing in the theoretical aspects of the curriculum.
Bachelor of Fine Arts
The requirements for the Bachelor of Fine Arts (BFA) degree provide a blend of inter-disciplinary study and ceramics-focused coursework. The degree program offers a flexible structure designed to meet your individual curricular needs.
Total Degree Requirements: 120 credit hours
Core Curriculum: 39 credit hours
Requirements in Music: 27 credit hours
Requirements in Theater: 34 credit hours
Requirements in Dance: 14 credit hours
Approved Performance Electives: 6 credit hours
---

Check out the undergraduate Curricular Guide which helps you outline what courses you would want to take each semester for all four years. 

Performance Opportunities
Throughout each of the eight semesters of the musical theater program, students have extensive opportunities to audition for a number of performances beginning freshmen year. Professional musicals, plays, cabarets and concerts are produced on campus each semester to offer the full experience of musical theater, from auditions and casting to stage makeup and final performance.
Each fall and spring, McLeod Theater introduces full productions of original and popular plays and musicals. Students in the musical theater BFA program may audition for these public performances to gain valuable experience in the fully equipped, contemporary theater.
In addition to the plays and musicals produced at McLeod Theater during the academic year, the McLeod Summer Playhouse offers opportunities for musical theater majors to gain valuable experience during the summer months. This professional theater company, directly affiliated with our Theater program, provides increased avenues for students wishing to audition for and star in fully produced public performances.
Additionally, showcase performances are regularly scheduled in the musical theater program through the workshop courses included in the curriculum. These showcases allow for intensive focus on performance techniques in the arts of singing, dancing and acting. With smaller groups and guidance from faculty members, students are allowed to present their talents and receive specialized instruction to evaluate individual progress.
In addition to the standard admissions process required by SIU, prospective students seeking entry into the BFA musical theater program must also complete the following two-step process:
You will apply for specific admission into the School of Music.


You will audition for us in-person. If you are unable to meet in-person, we can arrange a video submission. 
Explore the program recommendations and helpful hints to ensure a confident and smooth audition process!
---
Please click the linked heading above for more information.