Main Content
If you are ready to take your passion for music to the next level, the Master of Music program at SIU has the resources, facilities and instructors to help you find a rewarding career in performance, education, composition and a number of other exciting concentrations.
Your academic experience at SIU will provide every tool you need to foster your love for music in the field you choose. The MM program provides in-depth classroom instruction, vast research opportunities and training in performance skills in each of the 9 Concentrations and Areas of Emphasis offered.
A number of financial assistance opportunities are available for MM students through assistantships, fellowships, tuition waivers and scholarships. Fellowships provide tuition funding for nominees who show a great level of promise for scholarly and performance achievements.
Graduate assistantships offer a complete tuition waiver plus a monthly stipend for MM students who teach and/or provide research assistance in the School of Music. Additionally, a number of scholarships are available to MM students who exhibit musical talent and academic achievements. Find more information on the Funding and Graduate Assistantships page for details regarding instructions and deadlines.
Music majors are required to participate in major musical ensembles throughout the academic year, such as SIU's Concert Choir, Marching Salukis, Southern Illinois Symphony or Wind Ensemble. Additionally, The Outside the Box music festival is produced each year, providing opportunities for composition students to attend master classes, seminars, workshops and to perform in the Emerging Composers recital during the event.
Visit the School of Music for a full list of participation opportunities.
At SIU, rehearsals and performances take place in the oldest currently occupied building on campus, Altgeld Hall. With state of the art spaces for choral performers and musicians of every kind, this majestic building is a second home to many students of the music program and a place to enhance their experience as a burgeoning artist.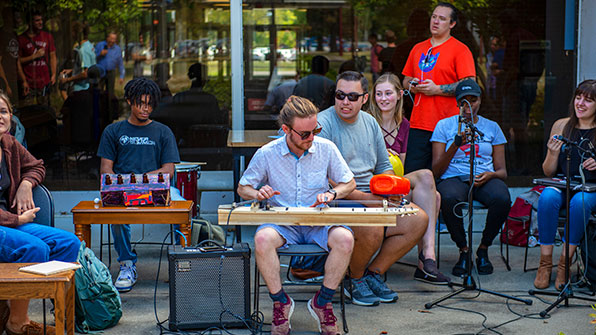 Contact Information
Karen Wolf
Academic Advisor
Faner 1229
1100 Lincoln Dr.
Carbondale, IL 62901
618-453-3388
kwolf@siu.edu
Dr. David Dillard
Director of Graduate Studies
Altgeld Hall
1000 S Normal Ave
Carbondale, IL 62901
618-536-8742
GradMus@siu.edu