Main Content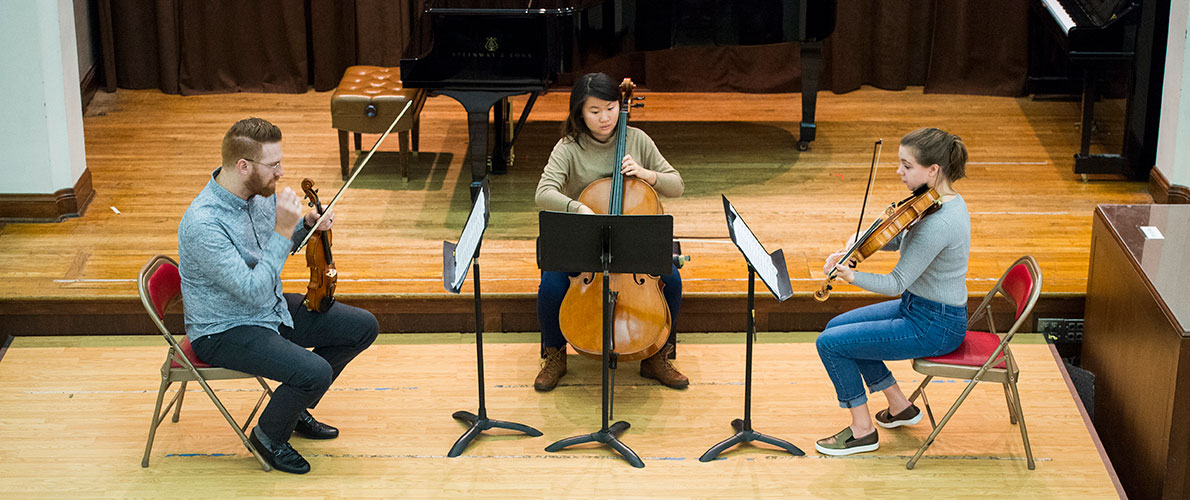 The individual talent of each musician is valued and embraced at SIU and with an array of opportunities for performance experience, technical training and theoretical studies, you can build on your existing foundation of experience from day one in our program. Our esteemed faculty members are world-renowned performers, researchers and composers who are committed to providing students with an education capable of beginning rewarding careers in the many fields of music.
The undergraduate program offers both a Bachelor of Music and a Bachelor of Arts in music. Students are able to choose from one of seven specializations to ensure an education in the field best suited for their talents. Successful graduates of the BM program are prepared to enter careers as professional performers and teachers of music. Those who choose a BA in music are able to grow as performers while also preparing for one of the many non-performance careers within the music industry.
We focus on talent and skills, not class level, so incoming freshmen may compete for first-chair positions upon entry to the program. Ensemble performances, campus events and festivals are offered throughout the year to create an environment that fosters growth and learning for our students. The energy and support within our close-knit community of diverse students and faculty members is focused on the utmost artistic and professional standards for every student of music.
Auditions are held several times throughout the year and recommended repertoire for each instrument is outlined for ensured success and consideration for the many scholarships available to students in the music program.
Music Degree Requirements

View Degree Requirements | View curricular course guides |  View all music courses | View Student Handbook | View Academic Calendar
Our intensive and highly specialized musical theater program provides performers with both academic and professional training. Performance opportunities begin during freshmen year and students can expect to perform in up to 13 total productions throughout the eight semesters of the BFA program. Faculty members are well versed in multiple disciplines and have a wealth of knowledge in the theoretical study of musical theater. Students come with potential, and we take care of the polish.
Student Organizations
Several opportunities exist, through the music department's Registered Student Organizations (RSO), for students looking to broaden their experience at SIU. These RSOs encourage camaraderie and support through the celebration of music. Whether you are looking for additional performance opportunities or the chance to network with fellow students and graduates of the music program, there is something for everyone. With an emphasis on the enhancement of music education and the future careers of our students, these RSOs can be an instrumental part of your growth as a professional artist.
Minor
Performers who wish to continue their passion for music while pursuing a degree in a different field may earn a minor in music at SIU. Focusing on both the performance and theoretical sides of music, this course of study provides students with training in performance skills, participation in ensembles at SIU and the conceptual study of music.
To apply to the undergraduate music program, prospective students are required to submit both a University application as well as a School of Music application. In addition to these applications, you will be required to complete an in-person audition at Altgeld Hall on campus, or a live online audition if traveling is not possible. Our Admissions and Auditions page will give you all of the details necessary to begin early preparation for your applications and an audition for each specific instrument.
Music majors are required to participate in major musical ensembles throughout the academic year, such as SIU's Concert Choir, Marching Salukis, Southern Illinois Symphony or Wind Ensemble. Additionally, The Outside the Box music festival is produced each year, providing opportunities for composition students to attend master classes, seminars, workshops and to perform in the Emerging Composers recital during the event.
Visit the School of Music for a full list of participation opportunities.
Each year, SIU provides opportunities for students to attend a number of music festivals throughout the year as well as several music camps each summer. These events complement your education as a music student through learning and observation. Festivals include performances of operas, classical piano and jazz guitar, to name a few. Summer camps provide instruction for drum majors and marching percussionists as well as piano competitions and camps for junior high and high school musicians.
For eligible students pursuing music degrees, a variety of scholarships are available based on criteria including musical talent, outstanding potential, specific specializations and academic achievements. Requirements for these scholarships, instructions on how to apply and deadlines to request funding may be found on our scholarships page. Incoming freshmen, current students and transfer students are encouraged to begin the process early to ensure consideration.
At SIU, rehearsals and performances take place in the oldest currently occupied building on campus, Altgeld Hall. With state of the art spaces for choral performers and musicians of every kind, this majestic building is a second home to many students of the music program and a place to enhance their experience as a burgeoning artist.
Contact Information
Karen Wolf
Academic Advisor
Faner 1229
1100 Lincoln Dr.
Carbondale, IL 62901
618-453-3388
kwolf@siu.edu
Jessica Butler
Director of Undergraduate Studies
Altgeld 22
1000 S Normal Ave
Carbondale, IL 62901
618-453-5195
j.butler@siu.edu
Careers
The ever-growing field of music holds more career opportunities than ever before. Whether you desire lifelong success as a performer, a rewarding position as a teacher or placement in one of the numerous specialized fields within the music industry, you can begin your journey at SIU.
For musicians, performance is a passion and a way of life. Choosing your area of specialization in performance will allow you to further expand and develop your craft and become uniquely trained to find a rewarding career as a performer. Graduates of our program can look forward to fulfilling professional opportunities around the world as instrumental soloists, orchestra members, vocalists and session musicians performing at venues that may include upscale bars and restaurants, religious events, business meetings, cruise ships, weddings, concert halls, theaters and clubs. Professionally trained performers earn a mean hourly wage between $35.27 and $48.47 depending on the industry according to the U.S. Bureau of Labor Statistics.
The instruction of music is an integral part of the continued appreciation and awareness of the art of performance and production. A degree in one of our seven specializations can put you on the path to a rewarding career as a music educator. With a comprehensive knowledge in your specialized area, careers are available both in public and private schools, as a teacher in studios or offering private lessons or as an administrator of arts.
The average annual salary for an Illinois public school teacher is $65,721 according to the National Education Association and with the current teacher shortage reported by the Illinois State Board of Education, teachers are in high demand. 
While performance and teaching are two of the main career paths for music majors, there are a multitude of fulfilling professions beyond these fields. Depending on your plans for the future and specific area of performance, a number of avenues await. Composers, copyright consultants, talent managers, event production coordinators, sound designers, media developers and recording engineers all have a start with a degree in music.