Main Content
Human Nutrition and Dietetics Program Goals
Mission Statement and Program Goals
Southern Illinois University's Human Nutrition and Dietetics Didactic Program is committed to delivering a progressive, evidence based curriculum with specialized course work to ensure graduates meet the core knowledge requirements to be successful in supervised practice leading to eligibility for the Commission on Dietetic Registration (CDR) credentialing exam to become a registered dietitian nutritionist. To achieve this mission, the following program goals have been set: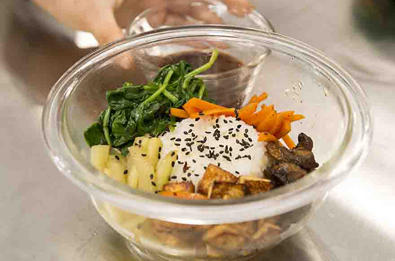 Goals and Measurable Outcomes of the DPD Program
Goal #1:
The DPD program will produce graduates who are qualified to enter and be successful in accredited supervised practice programs, health or science specific careers, or graduate school.
Objective Measures for Goal #1
At least 80% of program students complete program/degree requirements within 4.5 years (150% of the program length).
60% of program graduates apply for admission to a supervised practice program prior to or within 12 months of graduation.
40% of program graduates are admitted to a supervised practice program within 12 months of graduation.
Over 50% (national average) of program graduates who apply to supervised practice will be admitted within 12 months of graduation.
60% of students who did not apply -or get accepted- into supervised practice programs who return the alumni survey will either have: taken the DTR exam, and/or secured employment in a health or science related field, and/or gained acceptance into graduate school within a year of completing/graduating from the DPD program.
Note: outcome data for program objectives will be available to current and prospective students, as well as the public, upon written request to the program director via the contact information provided above.
Goal #2:
Graduates will demonstrate integration of nutrition sciences and theory, critical thinking skills, and the overall tools necessary to be competent professionals.
Objective Measures for Goal #2
80% of seniors participating in an exit interview will rate the academic preparation they received to be competent professionals as satisfactory or better.
The program's one year pass rate (graduates who pass the registration exam within one year of first attempt) on the CDR credentialing exam for dietitian nutritionists is at least 80%.
Over a 5-year period, 80% of graduates who complete the alumni survey will rate their knowledge base and critical thinking skills for entry level positions as satisfactory or better.
Over a 5-year period, 85% of supervised practice program directors who return the survey will rank program graduates as satisfactory or better on educational preparation for supervised practice.