Main Content
Bachelor of Science in Health Care Management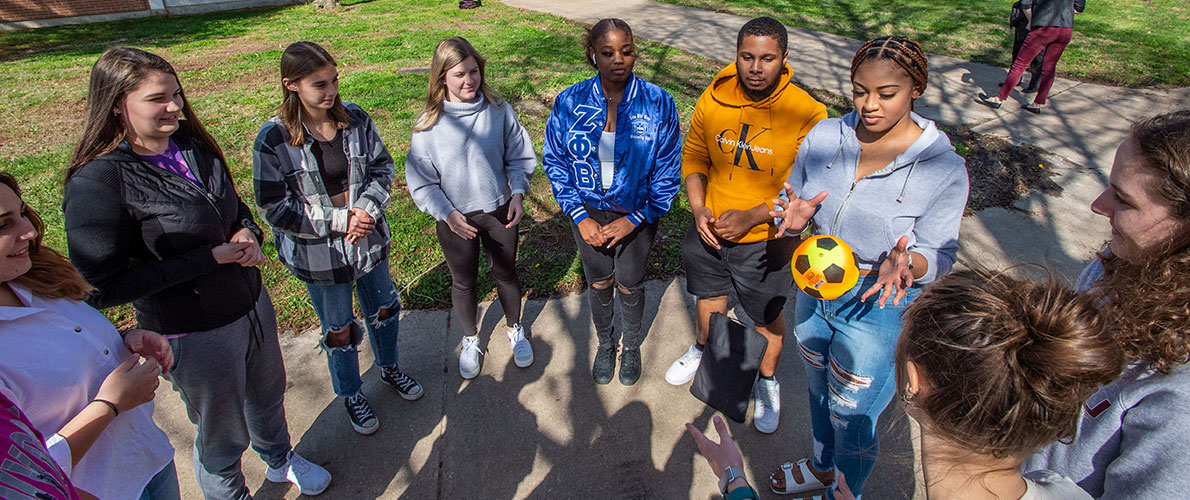 Right now, the career outlook in health care management is STRONG, with 28% growth anticipated in the next few years according to the Department of Labor; Bureau of Labor Statistics.  Our students gain the knowledge of what it takes to administrate and organize all the elements of a healthcare organization. They are prepared to enter the workforce ready to make an immediate, positive impact.

Our graduates continue on to graduate studies or pursue careers in venues like physician's offices, hospitals, nursing homes, health departments, health insurance companies, and many more. They may control budgets, organize staffing, manage patient records, or anything else connected with the business of healthcare. Our program is offered on campus as well as online.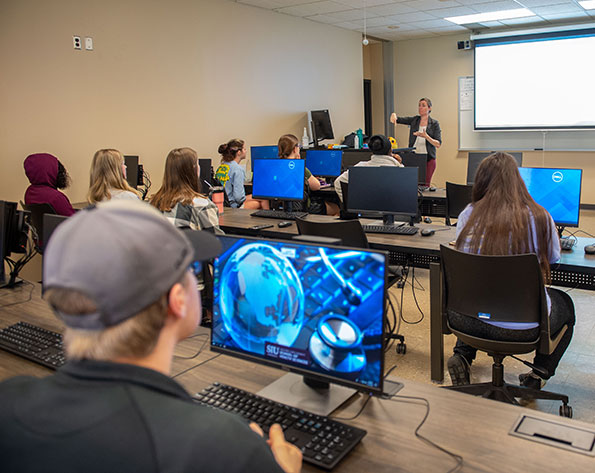 Degree Requirements
The Health Care Management degree program can be earned by fulfilling the requirements for the Bachelor of Science degree.
Total Degree Requirements:

 

120 credit hours
University Core Curriculum:

 

39 credit hours
Required Prerequisites: 11 credit hours
Health Care Management Requirements:

 

48 credit hours
Other Requirements:

 19

 credit hours
Electives:

 

3 credit hours

Check out the undergraduate Curricular Guide, which helps you outline what courses you would want to take each semester for all four years. View all related undergraduate courses. View the Undergraduate Handbook (PDF)
Minors
Our program offers four minors. All prerequisites of courses in the minors must be satisfied. Students must consult the HCM Academic Advisor in the School of Health Sciences to declare a minor. 
The Health Care Management (HCM) minor is designed to prepare undergraduate students interested in health care management with the skills and knowledge to prepare for graduate study or work in the health care field.
The Long-Term Care Administration (LTC) minor is designed for students with a specific interest in long-term care management/administration.
The Health Information and Informatics Management (HIM) minor is designed for students with an interest in a medical billing, reimbursement, auditing, and/or compliance specialization.
The Infection Prevention and Control (IPC) minor is designed for students with an interest in infection prevention and control within healthcare organizations.
Learn from Anywhere
The online format is a convenient and flexible way to earn the HCM degree. Created specifically for those who cannot attend on campus courses, the online HCM program provides students access to a degree in one of the fastest growing fields in the United States. With the exception of the HCM 422, all courses are set in an online, accelerated, format. HCM 422, an internship course, is a required component of the degree and is scheduled in a healthcare related facility approved by the University.
Capstone Program
The Capstone program can streamline your degree path, helping you earn your bachelor's degree with fewer additional credit hours. If you've earned an Associate in Applied Science degree, Associate in Engineering degree, or equivalent certification, you may qualify for Capstone.
Key features of the Capstone Option are:
Gives occupational students who have changed their educational and occupational goals an opportunity to pursue a four-year degree;
Is an alternative option to obtaining the four-year degree typically involving no more than two additional years of college;
Seeks to recognize similar objectives in both two-year occupational programs and four-year baccalaureate degree programs; and
Seeks to recognize similar objectives in certain work experiences and in four-year baccalaureate degree programs.
Internship
All Health Care Management (HCM) students complete an internship at the end of your program. An internship gives you the opportunity to apply the knowledge and skills you learned in your courses to real health care problems and situations — under the supervision of qualified and experienced healthcare professionals. Internships can also be your first career step.
These internships result from strong and established relationships with healthcare organizations as a result of SIU's commitment to excellence in undergraduate education. Your internship will help you build a bridge from the academic world to the professional world.
Careers
Many of our HCM graduates work in finance, marketing, human resources, and other management fields in a wide variety of healthcare settings including: hospitals and health systems, long-term care organizations, physician group practices and health insurance and pharmaceutical companies.

If you are interested in policy, you may find a career in state health, aging and insurance departments, federal agencies such as the Centers for Medicare and Medicaid Services (CMS) or with private trade and research organizations.

In addition, some of our HCM graduates go on to graduate education in medicine, health administration, health informatics health law, public health, and business. The Department of Labor Bureau of Labor Statistics predicts higher than average growth in these fields.
The Bachelor of Science in Health Care Management is certified by Association of University Programs in Health Administration (AUPHA), a global network of colleges, universities, faculty, individuals and organizations dedicated to the improvement of health and healthcare delivery through excellence in healthcare management and policy education.

Contact Information
Sandra Collins, 
Program Director
ASA Building 112
1365 Douglas Dr
Carbondale, IL 62948
618-453-8802
skcollin@siu.edu
Valerie Brooks Wallin, 
Academic Advisor
ASA Building 215
1365 Douglas Dr
Carbondale, IL 62948
618-453-7285
vlbrooks@siu.edu 
Student Organization
A successful college experience includes informal learning and making career connections. Our Student Health Care Management Association aims to bring health care leaders to SIU to meet with students and organize field trips to industry-related sites and conferences.
It's also a hub of career-related volunteer activity. We urge you to consider joining this RSO — and to check out other student groups that might interest you.