Main Content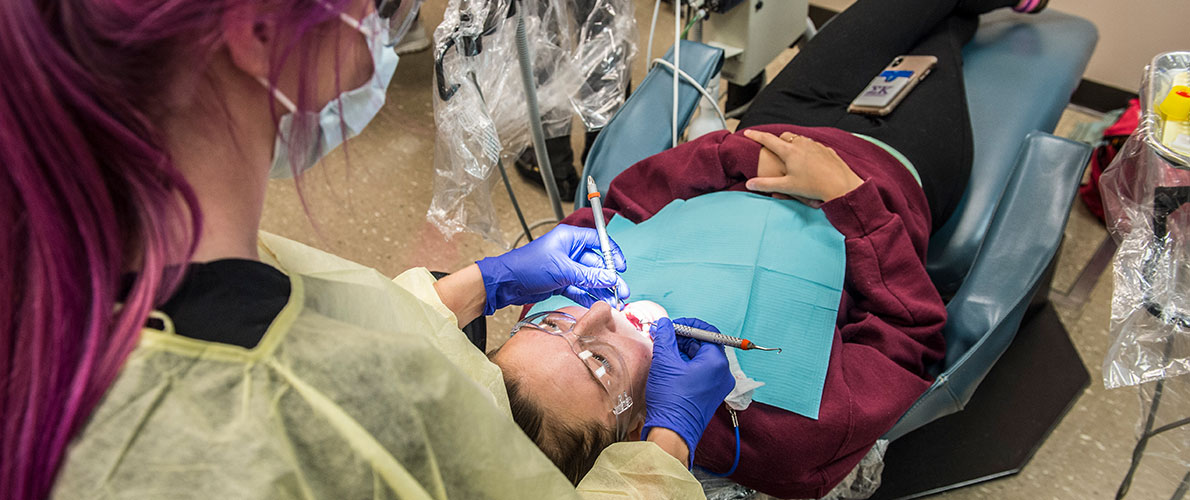 Dental hygienists occupy the front lines of oral healthcare. In addition to providing preventive dental care (teeth cleanings), comprehensive periodontal debridement and education to help their patients achieve and maintain a healthy smile, they apply sealants and fluorides, document care and develop treatment plans, provide nutritional and tobacco cessation counseling, and take diagnostic radiographs (x-rays). They also screen patients for oral diseases, head and neck masses, and are often the first to identify the signs of a more serious oral and facial condition.
We are home to the oldest dental hygiene school in the state of Illinois, and we offer the state's only Bachelor of Science degree in Dental Hygiene. Students admitted to this competitive program take classes on our award-winning campus, and current healthcare professionals have the option of earning a bachelor's degree online.
Our graduates enjoy enhanced employment options in the field of dental care and are qualified to pursue careers in research, teaching, or clinical practice in public or school health programs.
Students completing a bachelor's degree in Dental Hygiene will graduate with 120 hours of academic coursework completed in four years. Senior students gain dental hygiene teaching experience in a practicum rotation of labs and clinics. Integration of the dental hygiene professional courses over a three-year period allows the student extra supervised clinical practice prior to graduation.
We also offer an online Education and Management option for the busy professional, paving the way for those with an associate degree in dental hygiene to work toward a career in hygiene education or in management.
Accreditation
Our Dental Hygiene program is accredited by the Commission on Dental Accreditation (CODA). 
Commission on Dental Accreditation
211 East Chicago Avenue
Chicago, Illinois 60611


800.232.6108
coda.ada.org