Main Content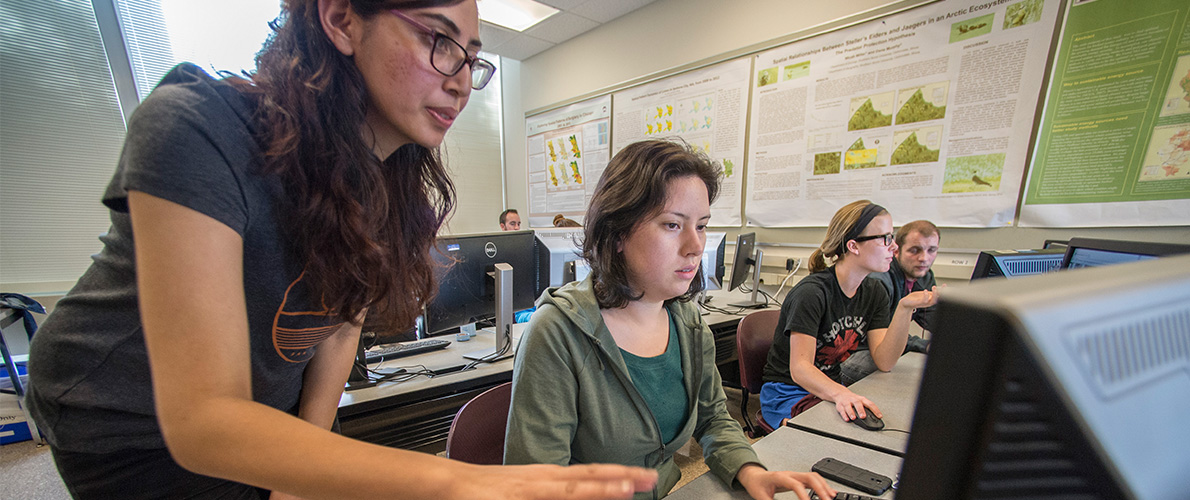 Applications
Admission to the graduate programs in Geology is based on an evaluation of the preparation, ability, and promise of the applicant.
To apply to one of our graduate degree programs:
Complete the on-line application: Go to ApplyYourself at the Graduate School website. If at any time in the application process you need clarification, please do not hesitate to contact the department by phone (618-453-3351) or email (geology@geo.siu.edu).
As part of the on-line application process, you will be asked to upload copies of your unofficial transcripts. In addition, please arrange to have official transcripts of all college-level course work sent directly to the Department of Geology.

GRE scores are optional. You may enter your unofficial scores on-line, but have your official scores sent directly to the Department of Geology (please use Institution Code 1726 and Department Code 0504). GRE scores are one factor used in decisions on admission and financial support.

As part of the on-line application process, you will be asked to provide contact information for individuals who can evaluate your potential for graduate school. We will need at least three (3) recommendations written by faculty, academic advisers, former employers, or others familiar with your academic performance, research potential, and other relevant work. Their evaluations may be submitted on-line or sent directly to the Department of Geology.
Your completed application must include an application fee of $65. You will have the opportunity to pay this fee with a credit card on-line, or you may send a check via mail; please make the check payable to SIUC Department of Geology.
Please be sure to have all of your information entered and all forms uploaded prior to submitting your application. Once your application is submitted, you will not be able to make changes.
We strongly recommend that you contact faculty member(s) in your area of research interests. Having a faculty sponsor (who would ultimately become your thesis advisor) is an important factor in admissions decisions.
Our address for transcripts, GRE scores, and letters of recommendation is below:
Graduate Admissions
Department of Geology
1259 Lincoln Drive
Parkinson Lab - Mailcode 4324
Southern Illinois University
Carbondale, Illinois 62901

Prior to admission to the program, graduate applicants will be expected to have completed satisfactorily the equivalent course work in the basic sciences and geology to that required for a Bachelor of Science degree in Geology at SIU. A student admitted with course deficiencies may be required to complete or audit appropriate undergraduate courses.
First-year teaching assistants are required to enroll in and complete GEOL 500. Other specific requirements will be determined by the student's advisory committee and the department Chair. Students are evaluated on an individual basis; their programs are determined by their career goals and the results of informal interviews with individual faculty members.
International Students: Please note that there are additional requirements for international applicants (as detailed on the ApplyYourself website). Please visit the Graduate School site and the SIU International Students and Scholars site for additional information.

Final admission to the graduate program in Geology requires the following:
Unconditional acceptance by the Graduate School; and
Positive recommendation for acceptance from the departmental Graduate Admissions Committee.
If you are unable to apply on-line, you may request application materials from: geology@geo.siu.edu
Application Deadlines
The application deadline for graduate programs and Graduate Assistantships is February 4, 2023. We begin considering students for assistantships in February, but will continue to accept applications after that date.
Fellowship deadlines are earlier, on January 3, 2023.
We normally admit graduate students in the Fall semester. Applicants will not be considered for Spring admission, exempting exceptional circumstances.
The University also offers fellowships, research awards, and others means of financial support at both the Masters and Ph.D. levels.
Assistantships
Graduate assistantships (teaching or research) are available on a competitive basis. These positions presently pay $14,742 per academic year (9 months) at a monthly stipend of $1,638 and include a tuition waiver (value dependent on residential status). Students are responsible for payment of university fees which include medical insurance; fees vary in amount but average about $1600 per semester. Applicants should contact the program for the most recent stipend and fee information.
Applications to the graduate program for the current academic year will be accepted until all assistantships are awarded. Teaching assistants devote an average of 20 hours per week to instruction and related activities. Most teaching assistants support laboratory sections of introductory and mid-level Geology courses. Research Assistants spend an equal amount of time on research projects in support of funded faculty research. The availability of Research Assistantships depends upon external or internal funding obtained by individual faculty members.
As a matter of policy, the graduate program in Geology does not guarantee a student working toward a M.S. degree financial support for more than two academic years nor a Ph.D. student for more than four academic years.
Geology students applying to the M.S. program, the Ph.D. in Geosciences program, and the Environmental Resources and Policy Ph.D. program are eligible to apply for teaching and research assistantships from the Geology program. Download our policy statement.
In addition to Assistantships, the Geology program offers fellowship and scholarship support to graduate students on a competitive basis. Funding to help offset expenses of thesis or dissertation research and presentation of research results at national and/or regional professional meetings is available.