Main Content
Areas of faculty expertise at SIU cover most of the major subdisciplines in geology, including environmental geology, geochemistry, hydrogeology, mineralogy, sedimentology, tectonics, and others. Their research activities range from detailed studies of the properties of minerals and geochemistry of coal waste to the structure of the midcontinent seismic zone. The backgrounds of our faculty are as diverse as their interests; they have earned doctoral degrees from top programs across the world, including the University of Melbourne (Australia), Brown University, Indiana University, The Pennsylvania State University, Northern Illinois University, and Southern Illinois University, and the University of Utah.
SIU is proud of our national reputation as an institution that commits to undergraduate research opportunities, and we continually encourage geology undergraduate students to take part in faculty research projects. Working alongside faculty and graduate students in geology is an exciting experience that may include field work, data analysis, and even participation in preparing publications and making presentations at professional meetings; it is also excellent preparation for graduate school. Research opportunities often include assistantship positions funded through external grants (National Science Foundation (NSF), National Aeronautical and Space Administration (NASA), etc.), or internal sources such as the REACH (Research-Enriched Academic Challenge) program provided by SIU. Students interested in undergraduate research should contact faculty in their area of interest to see what options are available.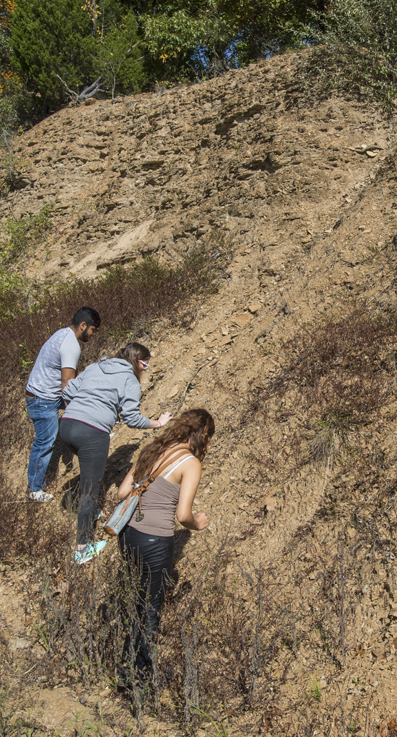 Recent Undergraduate Research
Many of our faculty involve undergraduates in their research programs.  These field and lab experiences allow our undergraduates to work closely with both faculty and graduate students. Such experience is important preparation for graduate school or moving on to a job in industry or state or federal government positions.
Our four departmental groups have recently involved undergraduates in their research programs:
Dr. Liliana Lefticariu's Lab: Biogeochemistry, economic geology, coal geochemistry
Dr. Sally Potter-McIntyre's Lab: Sedimentology, stratigraphy, and biogeochemistry of diagenesis, petroleum geology, Mars sedimentology and astrobiology
Dr. Sue Rimmer's Lab: Organic petrology of petroleum source rocks and coals, geochemistry of coals and black shales, maceral separation
Lefticariu Lab
Filiberto Lab
Potter-McIntyre Lab
Rimmer Lab