Main Content
Graduate Assistantships (GAs) are offered to highly qualified graduate applicants based on scholarly merit. Most MS students are supported for two years (4 semesters). The average GA appointment is 50% appointment (20 hours per week) and usually lasts for one academic year (9 months). There are also 25% appointments requiring 10 hours per week. The Graduate Catalog provides details on course load requirements and assistantship renewals.
The majority of our graduate assistants are offered teaching assistantships, and we encourage their professional development as educators. The Center for Graduate Teaching Excellence has many valuable resources to aid graduate teaching assistants. Note that international students must satisfy university requirements for English language proficiency if their GA duties include teaching.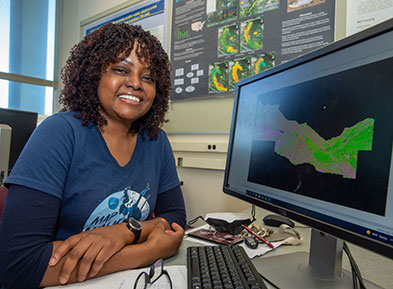 Master's Fellowships
Awarded by the SIU Graduate School, the Master's Fellowship is a one-time award at the master's degree level that is designed for those nominees who show the greatest promise for scholarly and professional achievement in their respective disciplines. The fellowship will be awarded for three semesters, fall, spring, and summer for a total of eleven (11) months.
---
Research Assistantships
Through the research grant activities of our faculty, we also support several graduate research assistants. Please contact us at geog@siu.edu with questions regarding current and anticipated future opportunities.
Teaching Assistantships
Graduate teaching assistants facilitate the delivery of an undergraduate course by a primary instructor (a member of the faculty). As such, the duties of a graduate teaching assistant often include attending lectures, monitoring attendance, leading instruction of lab sections, and grading student work. We typically have graduate teaching assistants for the following courses:
Environmental Conservation (GEOG 100)
World Geography (GEOG 103)
Weather, Climate, and Society (GEOG 104)
Geography, People, and the Environment (GEOG 300i)
Physical Geography (GEOG 303i)
Geographic Information Systems (GEOG 401)
Introduction to Remote Sensing (GEOG 406)
Cartographic Design (GEOG 416)
Contemporary Issues in Environmental Studies (GEOG 470)