Main Content
Bachelor of Science in Fermentation Science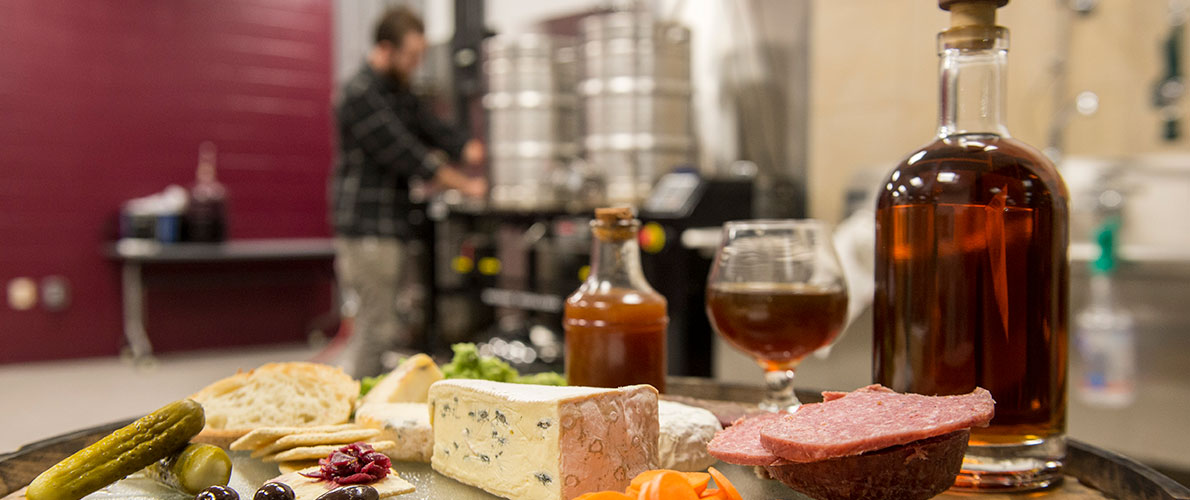 Our multidisciplinary program in fermentation science offers a curriculum that immerses each student in the fundamentals of fermentation from day one. Our program prepares each student to pursue their individual career path with an in-depth understanding of the science behind fermentation as well as practical training in the various fields of study.
Our newly renovated, 60,000 square-foot open design FSI building allows you to take part in classroom and laboratory instruction, research opportunities and outreach activities in the industry all in one building. Our focus on vertical integration makes it easy for you to learn about numerous aspects of the fermentation science industry with the equipment and facilities available.
From the first day of instruction, you will be immersed in the theoretical aspects and hands-on practice of alcoholic beverage production, food fermentation and industrial fermentation. Beer, wine and distilled sprits along with the production of food items including yogurt, sourdough, kombucha, kimchi, sauerkraut and cheese are huge industries in the field of fermentation science.
Beyond the production of fermented food and beverages, you will also learn about fermentation in biotechnology, the pharmaceutical application of fermentation as well as the agricultural elements of fermentation science.
Graduates of our program are well prepared to enter the industry of fermentation science with hands-on technical training in our world-class pilot facilities and a curriculum that follows the most recent theoretical elements of fermentation science. The production and analysis of beverages and fermented foods as well as industrial fermentation as it relates to energy, materials and pharmaceuticals are the cornerstones of our unique and in-depth institute.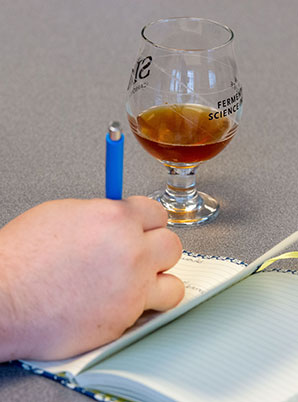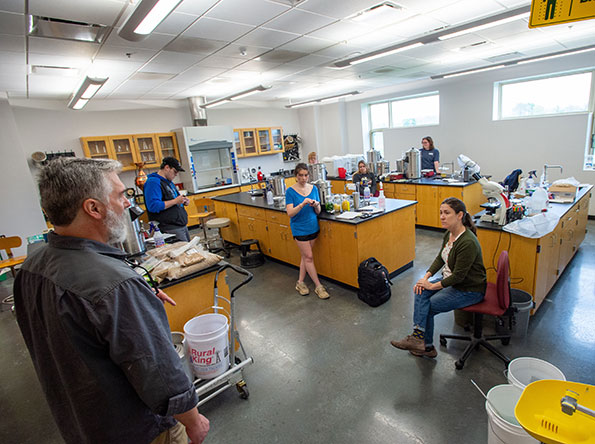 Degree Requirements
The Fermentation Science degree program can be earned by fulfilling the requirements for the Bachelor of Science degree.
Total Degree Requirements:

 

120 credit hours
University Core Curriculum:

 

39 credit hours
Major Requirements:

 

(2)+36 credit hours
Science Requirements:

 (9)+38

 credit hours
Hospitality and Business Requirements:

 4

 credit hours
Approved Electives:

 

3 credit hours

Check out the undergraduate Curricular Guide, which helps you outline what courses you would want to take each semester for all four years. View all related undergraduate courses.
Internships
In order to successfully gain a B.S. in fermentation science, you will be required to complete a 300-hour internship at an approved, full production industrial facility. The internship usually requires two months of work to fulfill and is often accomplished in the summer or the last semester before graduation.
Placement in an internship will be determined with the help of our dedicated faculty and staff members. Finding an appropriate internship location, based on your specific career interests, will allow you to hone your craft as well as make contacts in the bustling world of fermentation science. This immersive hands-on training gives you the opportunity to begin the first step of your career.
The FSI Service Lab operates as a third party testing facility for fermentation businesses, staffed by nationally recognized faculty members under the U.S. Tax and Trade Bureau (TTB). Offering lab based analytical surveys of beer, wine and distilled spirits the FSI Service Lab supports production, research and development of numerous products using the most current technologies and state-of-the-art equipment.
The FSI proudly provides several ultramodern elements in our facilities including a new 75-gallon distillery, test kitchen, cheese laboratory and pilot facilities for malting, brewing, distilling, and researching fermented foods. A sensory laboratory is also on-site for the study of sensory analysis as it relates to nose and texture. Through support from the Illinois Food, Entrepreneurship, Research and Manufacturing Hub (IFERM Hub) our FSI facilities offer production-scale equipment in malting, distilling, brewing and cheesemaking.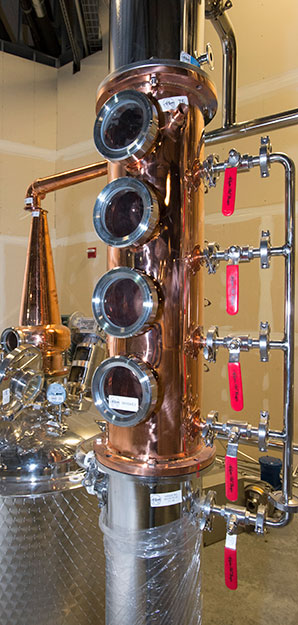 Student Experiences
Among the exciting and informative opportunities that are available, you may participate in the student-run field-to-glass brewery wherein barley is grown on SIU farms, malted in our facility and brewed in the FSI brewery.
Additionally, the "taste but not imbibe" statute allows students to begin fully developing their sensory palette in the first year of instruction to ensure a high level of skill in tastings upon graduation.
Through the FSI's partner brewery, Ravinia Brewing Company, fermentation science students receive real-world instruction in the world of large-scale, full production brewing.
Careers
The well-rounded curriculum in the Fermentation Science Institute provides you with a foundation in science and fermentation that is transferable to a variety of careers within this field.
With a degree in fermentation science, you can pursue your passion as a producer of beer, wine, cheese, sauerkraut, kimchi, or bread. You may also be interested in one of the multitude of jobs in the production process of fermented foods and beverages, from research and testing to quality control and biotechnology. Job placement for our graduates remains extremely high at facilities ranging from local fermentation businesses to large international brewing companies.
While beer making isn't the only career option in the field of fermentation science it is certainly an ever-growing path for our graduates to pursue. Many of our graduates are currently employed in a variety of positions at both local and international brewing companies. The brewing industry holds opportunities for fermentation science graduates in production, processing and business development.
There are a vast amount of rewarding and interesting careers, outside of brewing that are available to graduates of our program. Numerous production jobs exist in distilleries, vineyards, wineries, and food production facilities both within the United States and across the globe. The fermented food industry is one of the most rapidly growing industries in the world and there are a number of professions in this area of study alone.
Applied biotechnology as well as bio-manufacturing and pharmaceuticals are a large part of the fermentation science industry and provide careers in medical and corporate research, agriculture companies and laboratories. The scientific foundation of your fermentation science degree holds relevance to a number of professions in a variety of settings.
Career opportunities for FSI graduates continue to grow in the field of fermentation science and with our continued high rate of job placement and career success, the FSI is just the beginning of a rewarding profession in this multifaceted industry.

Contact Information
For more information or advisement questions, contact:
Susie Lighty
Office Administrator
McLafferty Annex 109A
1785 University Press Drive
Carbondale, IL 62901
618-453-7507
susan.lighty@siu.edu
Jean McPherson
Academic Advisor
AG Building 217A
1025 Lincoln Dr
Carbondale, IL 62901
618-453-3080
jeanmcp@siu.edu 
For more information or questions on research, contact:
Matt McCarroll
Program Director
McLafferty Annex 109B
1785 University Press Drive
Carbondale, IL 62901
618-453-7508
mmccarroll@siu.edu
Mandy Rothert
Laboratory Researcher III
McLafferty Annex 102B
1785 University Press Drive
Carbondale, IL 62901
618-453-7500
amanda.rothert@siu.edu
Recognized by Master Brewers Association of the Americas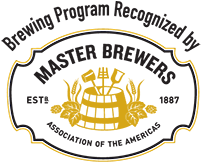 The Fermentation Science Institute is one of only seven undergraduate programs in the United States currently recognized by the Master Brewers Association of the Americas. This proud distinction sets the FSI apart from other brewing programs by recognizing our efforts to advance the practice of brewing and its related industries.
The MBAA is a nonprofit professional organization devoted to the research and development of brewing malt beverages. This research is made available to the public through a multitude of presentation methods including seminars, journals and conferences. To be recognized by the MBAA enhances the success of our FSI graduates and we pride ourselves on adopting the same vision as the MBAA in advancing the industry of brewing.