Main Content
Master of Science in Animal Science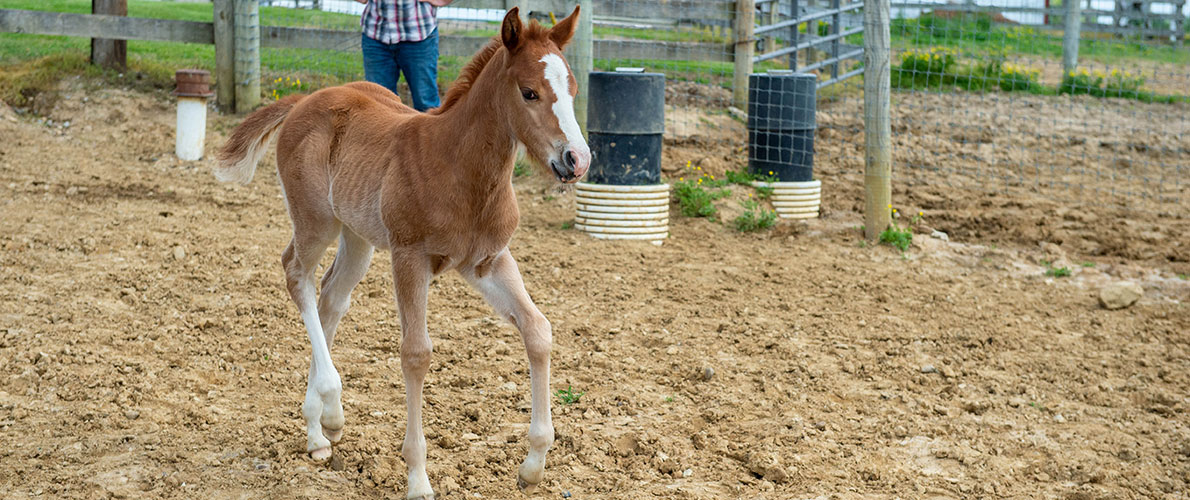 Our academic program covers the various disciplines of animal science and nutrition, reproductive physiology, biotechnology and growth and development with emphasis on beef cattle, dairy cattle, equine, and swine. Other animal or cell culture systems are sometimes used as research models.
You can choose between a thesis or non-thesis option. Students planning on pursuing a PhD. should follow the thesis option. Our rigorous coursework and directed study lay a solid foundation for your doctoral degree. The non-thesis option has a higher concentration of classes and is more structured, helping those wishing to enter the industry right after graduation, advance in the workplace. Students experience quality, hands-on learning both in the classroom and in the daily care, feeding, management and supervision of animals.
Our accomplished faculty guide graduate students in cutting-edge research and analyses of the biology and management of domestic animals. Students and faculty collaborate on fitting research to practical applications in agricultural industries.
Our students have the advantage of access to our advanced courses and facilities, including our 2000 acre University Farm that is contingent to campus.
---

Check out the course requirements and program courses to help you outline what courses you should take.
---
SIU believes in supporting our graduate students. We strive to keep our programs affordable, and we emphasize graduate research and teaching assistantships so graduate students can earn while they learn.
Facilities
It wouldn't be an Agricultural Sciences degree with an Animal Science major without agricultural resources, animals, and science. We've got you more than covered. 2,000 acres of University Farms with barns, fields, pasture and more. Horses, cattle and swine to work with and care for. And research labs where you can join on-going research or launch your own project.
If you are interested in a topic, or if you have some experience with an animal welfare challenge, that's where you can start your research. In this area, research means a way to answer an animal care question.
SIU faculty and students are currently researching such topics as: challenges using fescue as livestock forage; supplements to decrease colic risk in horses; how to use soy for human and animal health; Omega-3 fatty acids for human health and for horse health; and more.
Program Tracks
The Animal Science unit offers graduate work leading to a Master of Science degree in Animal Science with four tracks:
Animal Science
Students study and research best and innovative practices for raising livestock and companion animals, emphasizing a challenging curriculum of nutrition, reproduction and development. We emphasize animal well-being, efficient animal husbandry and practical applications to the animal-raising community.
Animal Nutrition
Animal nutrition specialists study a variety of species, emphasizing vitamin and mineral metabolism, energy and protein utilization and feed efficiency. Students undertake individual research, sometimes in cooperation with an industry partner. Our emphasis on research methodology complements out rigorous curriculum.
Animal Reproduction
Our reputation for excellence in the study of animal reproduction comes from the careful attention from faculty, the emphasis on field research and observation and access to the outstanding facilities at University Farms. Students undertake a challenging curriculum of physiology, genetics, endocrinology and applications of biotechnology.
Customized Study: Animal Science
Prepare your own course of study with the close assistance of faculty mentors who will guide you on the path you set for yourself. You'll gain a solid base of research methodology, instrumentation methods, animal care, physiology and nutrition, emphasizing your chosen research area.
Careers
Our emphasis on research, practical application of theoretical knowledge, and hours and hours of hands-on animal handling, management and care helps our students find careers soon after graduation – or even before graduation. Our balance of lab science and barn time means you'll be ready for a variety of careers.
Here are some fields you can consider:
Animal nutrition research and product development
Barn management – breeding, production, finishing
Stable management – training, boarding, breeding, showing/performance
Education – high school, higher education, university extension
University farm management
Animal genetics research
Government – USDA, FDA, BLM
Research
At SIU, we define research as knowledge creation, discovery or innovation. Research is exploration – a way to answer a question or investigate a key idea. And a method to master practical skills.
In Animal Science, that can mean lab time or barn time or field time. No matter where you are researching, you are finding ways to put your passion into practice.
Contact Information
To learn more about the program or request information, contact:
William Banz
Program Coordinator
1205 Lincoln Drive
Carbondale, IL 62901
Phone: 618-453-1752
banz@siu.edu
Ira Altman
Interim Director
1205 Lincoln Drive
Carbondale, IL 62901
Phone: 618-453-2430
ialtman@siu.edu