Main Content
Bachelor of Science in Animal Science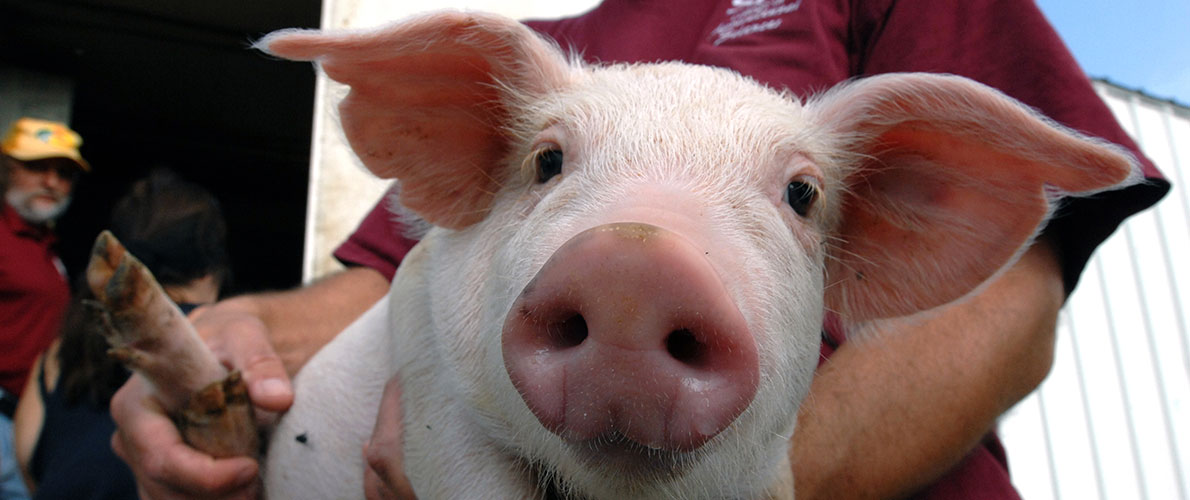 Livestock management is high-tech and high-stakes. It's also traditional, hands-on and barn-based. We'll invite you into the barns where you can get college credit for the routine care of cattle, hogs and horses. You'll have the chance to join ongoing research into nutrition and feed efficiency, reproduction, probiotics, and genetic health. Get in on baby animal care (Pig Watch and Foal Watch), or learn to handle 1,000 pounds of bull at the Bull Test Center. It's a "learn-by-doing" field and you'll have lots of learning opportunities.
Animal Science is one of the most common majors for Pre-Veterinary medicine. We have an outstanding track record of veterinary school acceptance for our students. Incorporate the Companion Animal Certificate coursework into your major for added edge.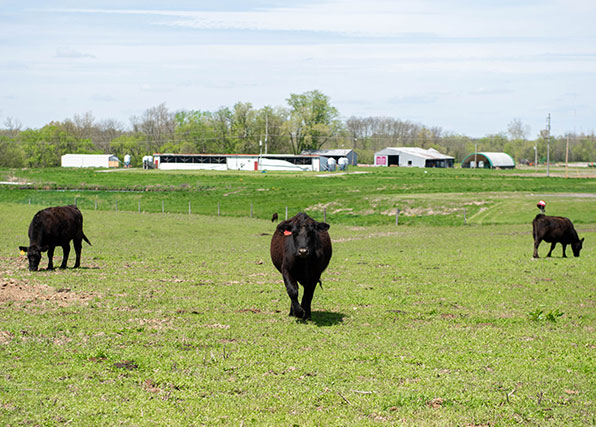 Bachelor of Science
The undergraduate major can be accomplished by fulfilling the requirements for the Bachelor of Science (BS) degree.
Total Degree Requirements:

 

120 credit hours
University Core Curriculum:

 

39 credit hours
Animal Science Core Requirements:

 35

 credit hours
Specialization Requirements:

 46

 credit hours

Check out the Curricular Guides, Production, Equine Science, Pre-Veterinary Medicine, which helps you outline what courses you would want to take each semester for all four years. View all related courses.
Specializations
We offer three specializations that cover most farm-based animal careers.
If you want to raise cattle or hogs for meat or breed improvement, whether as part of a large commercial operation or to fill a local foods niche, choose Production.
Horse lovers with career-ambition choose Equine Science to find careers in training, performance horse and boarding stable management, horse breeding operations and other horse facilities.
Pre-Veterinary is just what it sounds like it is – preparation geared to getting you into veterinary school. Veterinary schools are highly competitive and the curriculum is challenging. In our program, you'll gain large animal experience that will make you a standout candidate.
Registered Student Organizations
For our students, Animal Science isn't just a major -- it's a way of life. Join a Registered Student Organization (RSO) to get more out of your college experience. You'll enjoy collegiate-level competition, gain experience, learn leadership and event organization skills, network – all this while having fun and making friends. RSO's are an important part of the extra side of a university education that make your résumé stand out, and make you a memorable person.
Minors
Minoring in Animal Science or Equine Studies is a great way to aid focus to another agricultural major such as Agribusiness Economics or Agricultural Systems and Education.
You can use either minor to enhance a major from another area, such as business or journalism.
Online Certificate
Expand your training and enhance your marketability with a Companion Animal Nutrition certificate. This online, non-degree diploma program in Companion Animal Nutrition. You can count the course toward your Animal Science bachelor's degree. Or, you can earn the certificate separate from any degree program – apply as an unclassified undergraduate.
Companion animals include dogs, cats, rabbits, birds, aquarium fish, rodents and reptiles.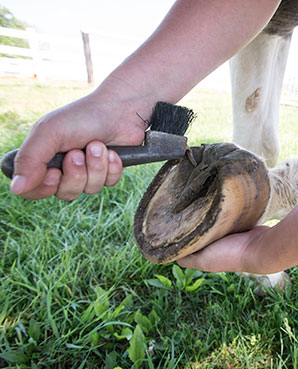 Scholarships
SIU's General Scholarship Application automatically puts you in line for every scholarship for which you are eligible. Some scholarships – such as the Chancellor's Scholarship for freshmen and the Provost's Scholarship for transfer students – have additional application requirements and deadlines. Some students qualify for tuition discounts, such as the Legacy tuition rate for children of alumni, and the Saluki Commitment for qualifying students from Illinois. All students pay in-state rates – we don't have out-of-state tuition. Student employment can help you pay for your degree while the experience helps you learn. We promise -- we'll do everything we can to help you get here and join our Saluki team.
Facilities
It wouldn't be an Agricultural Sciences degree with an Animal Science major without agricultural resources, animals, and science. We've got you more than covered. 2,000 acres of University Farms with barns, fields, pasture and more. Horses, cattle and swine to work with and care for. And research labs where you can join on-going research or launch your own project.
If you are interested in a topic, or if you have some experience with an animal welfare challenge, that's where you can start your research. In this area, research means a way to answer an animal care question. SIU faculty and students are currently researching such topics as: challenges using fescue as livestock forage; supplements to decrease colic risk in horses; how to use soy for human and animal health; Omega-3 fatty acids for human health and for horse health; and more.
Research
What is research? It's exploration. It's a way to find answers, to solve problems, to learn more about something that has caught your interest. Maybe you want to know more about the way a barefoot horse's hoof functions compared to a shod horse's hoof. Maybe you want to know if expensive livestock supplements work. We're here to help you learn how to find the answer and get involved in hands-on learning in the early stages of your education.
Living Learning Community
Most freshmen live on campus, and some students prefer to live on campus the whole time they're in college. This is especially true for students in Living Learning Communities (LLC). LLCs are sections of residence halls reserved for students with similar majors or career interests.
The Agricultural LLC is in Steagall Hall, located in Thompson Pointe near Campus Lake. You'll share residence hall space with students from a broad range of agricultural-related interests. This makes it easy to find friends and study mates because you'll already have something in common with your closest neighbors. LLCs often host social events, take field trips, and invite guest speakers – so it can be a fun and easy way to learn more and do more relating to your future career.
Careers
A degree in Animal Science opens management-level careers in barns, farms, stables and feedlots. It leads to careers in research in animal nutrition, probiotics and supplements, animal growth, genetics and breeding, and more. And it is the natural gateway to veterinary school.
Salary levels for Animal Science-related careers varies. In some cases, the dollar pay is less important than job satisfaction. However, agriculture is a major industry, and careers in it can be lucrative. According to the U.S. Bureau of Labor Statistics, the median pay for farm/ranch/agricultural managers is $68,090 annually. The median salary for agricultural and food scientists is $68,830. Animal feed sales representatives can really make bank with some base salaries at $125,000 and available bonuses at more than $90,000 annually. That's a lot more than many sales representatives make – the difference is the specialized knowledge nutrition-based sales require. Veterinarians make nearly $100,000 annually – and currently the job outlook for vets is rated much better than average.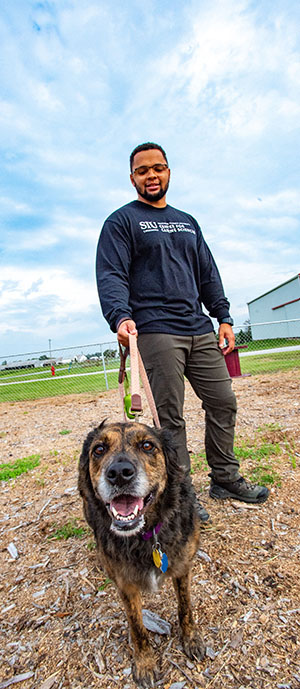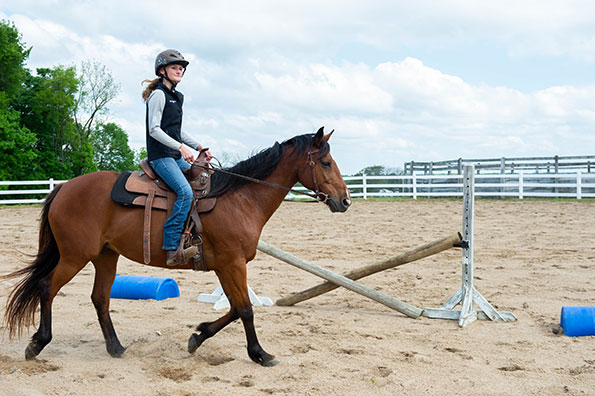 Contact Information
Ira Altman
Program Director
Ag 226F
1205 Lincoln Drive
Carbondale, IL 62901
Phone: 618-453-2421
ialtman@siu.edu
Liz Bland
Coordinator of Student Transition and Success
Agriculture 117
1205 Lincoln Dr
Carbondale, IL 62901
Phone: 618-453-3014
agsaluki@siu.edu

Incoming students can also contact Kaitlyn Kern in the Advisors office.