Main Content
Agriculture Systems & Education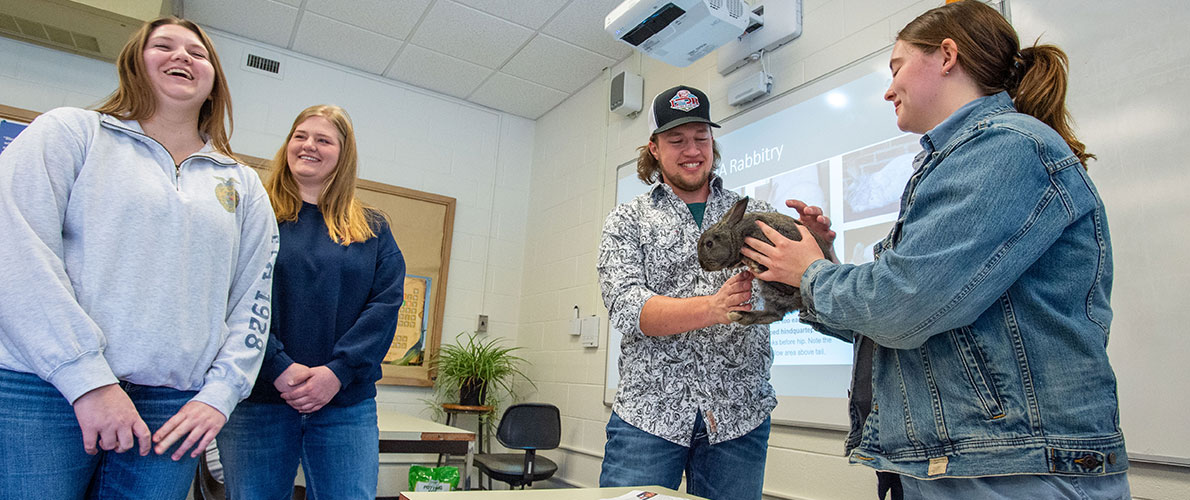 Agricultural Systems includes everything related to agriculture as one giant system essential for efficient farming operations. We offer a general agriculture program that gives you a little bit of everything—which is exactly what many agricultural professionals and family farmers need. Or, you can specialize in particular areas for a rewarding career within the agricultural industries.
We offer an education focus for those who want to teach the next generation, who want to share their passion for all things ag with middle school and high school students. Whether or not you grew up on a farm, "Ag Ed" is for you if you want to teach young people to appreciate our resources and become responsible civic leaders, and you value the kind of learning best done in the field.
Our Bachelor's degree in Agricultural Systems & Education covers everything related to farming and agriculture—from livestock and nutrition to soil health and farming equipment, from labor supply and new technology to marketing and finances, from agricultural production to agricultural systems management.
Choose the General Agriculture track for maximum flexibility, or follow one of our cutting-edge specializations to sharpen your career focus.
General Agriculture
Agricultural Communications
Agricultural Education
Agricultural Production Mangement
Agricultural Systems Technology Management
Food & Process Engineering Technology
Agricultural Education
Agricultural Systems
Food & Process Engineering Technology
As a future teacher, you'll be part of our Teacher Education program. In addition to your core subject areas within agriculture, we'll provide the education courses, clinical practice, tests and student teaching experiences you'll need to succeed as a licensed educator.