Main Content
Master of Science in Communication Disorders and Sciences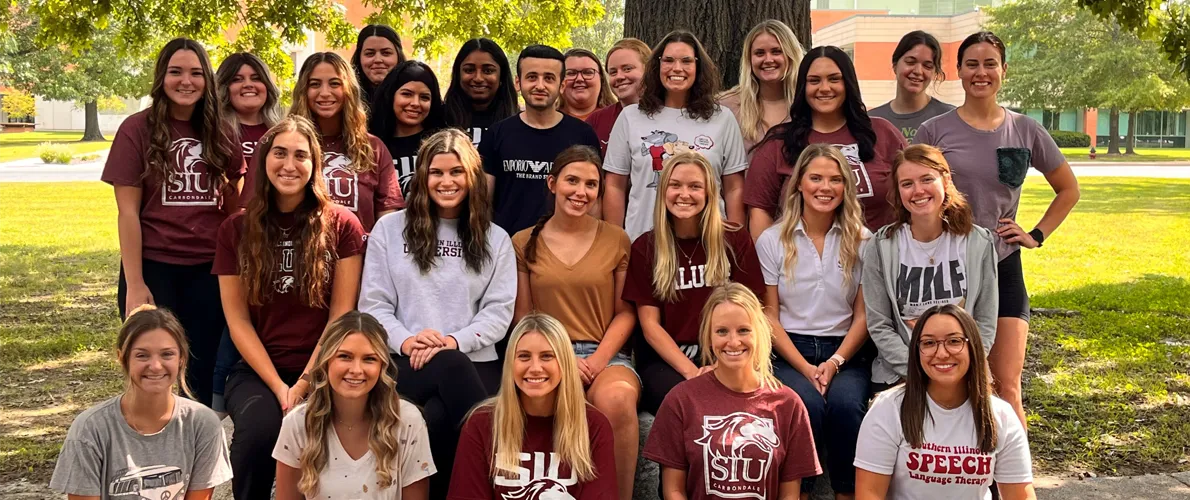 Our accredited Master of Science in Communication Disorders and Sciences leads to national certification in speech-language pathology and prepares students for doctoral education in speech-language pathology or related fields. Through a strong clinical program, diverse faculty, study abroad options, and a multitude of research opportunities, our graduates are well-prepared for their chosen profession.
Our students excel at passing the Praxis exam, a national exam necessary for ASHA certification. We have  100% job placement in the field within one year of graduation.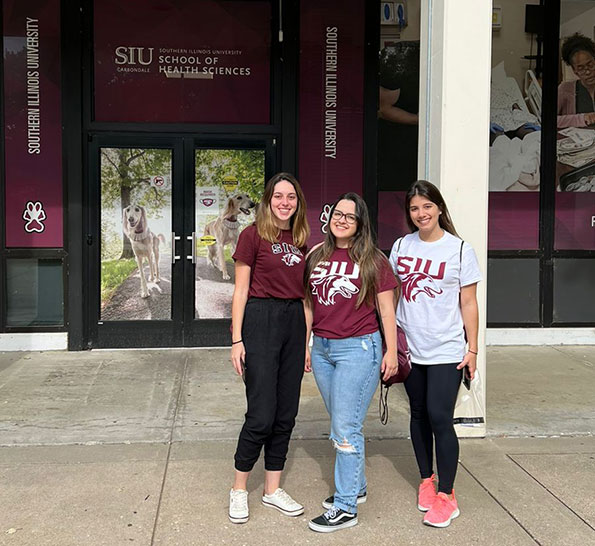 Degree Requirements
Beginning in 2023, the master's program will be a six-semester program, and it will transition to begin in the Summer term. The Master of Science program in Communication Disorders and Sciences ranges from 63-66 credit hours. The first Summer Semester will enable students to start earning clinical hours and complete a Research Methods in Communication Disorders course. We promote collaboration between our faculty and students throughout clinical, research, and mentorship experiences. 
View our Masters Curricular Guide which helps you outline what courses you would want to take each semester.
Professional Education License
SIU CDS Masters of Science program provides education and clinical experiences enabling graduates to earn a non-teaching professional educator license in Illinois as a speech-language pathologist. Becoming a speech-language pathologist in a public school in Illinois requires a professional educator license. Students planning to pursue the non-teaching professional educator license should apply through the teacher education program.
For those that do not have a CDS Bachelor's degree, we offer a leveling course sequence to obtain prerequisites. This course sequence is currently offered on-campus only.
Admissions
This program requires that you submit an application to both SIU Graduate School Application and a CSDCAS application.
The GRE exam is optional and not required for admission to the Communication Disorders and Sciences here at SIU.
Factors influencing acceptance are volunteer work, professional experience, and those who demonstrate self-motivation and passion for the CDS field.
Clinical Program
Clinical practice is where students apply what they've learned in the classroom. Under the supervision of CDS faculty, students provide care to those with communication disorders in the SIU Clinical Center and the Center for Autism Spectrum Disorders. Here, students learn to assess, diagnose, and treat those in need and discover the benefits of strong listening, problem-solving, and communication skills.
The last two semesters of the CDS clinical program students are completing full-time internships and/or student-teaching experiences. These internships/student-teaching assignments offer real-life experiences in schools and health care settings, allowing students engage in a higher level of clinical practice.
The Communication Disorders and Sciences master's program is nationally accredited by the Council on Academic Accreditation in Audiology and Speech-Language Pathology. They accredit graduate programs that prepare individuals to enter professional practice in audiology and/or speech-language pathology.
Contact Information
Valerie Boyer,
Program Director
Rehn 309 A
1025 Lincoln Dr.
Carbondale, IL 62901
Phone: 618-453-7211
health.sciences@siu.edu
Karma Smith,
Recruitment & Retention
Applied Sci Art Bldg 18 D
1365 Douglas Dr.
Carbondale, IL 62901
Phone: 618-453-8822
karma.smith@siu.edu