Main Content
Bachelor of Science in Early Childhood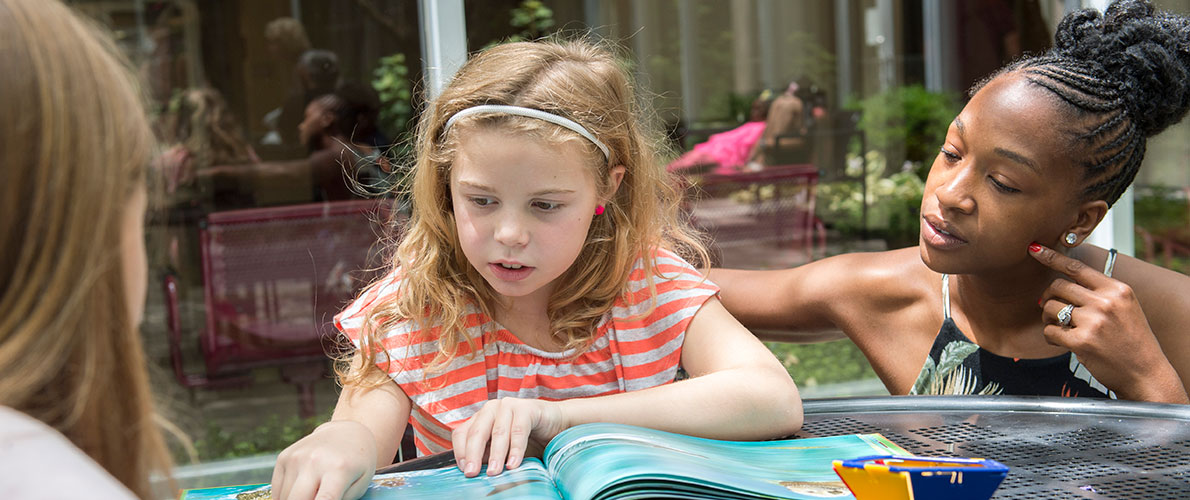 The early childhood program values the education of children from birth up to eight years of age. This time period is hugely important in the field of education and you can make a difference in young lives with a degree in early childhood. This program is designed to prepare students to apply for a State of Illinois Professional Educator License upon graduation and begin careers as early childhood educators.
While advancing through the required curriculum you will attain professional competency through purposeful academic work and clinical performance in the field. The University Core Curriculum (UCC) requirements allow each student to gain a broad knowledge in important areas of study to teach the future generations. Through foundation skills such as written and oral communication, disciplinary studies in arts and science, and integrative studies focusing on human diversity, the UCC is the foundation of your education.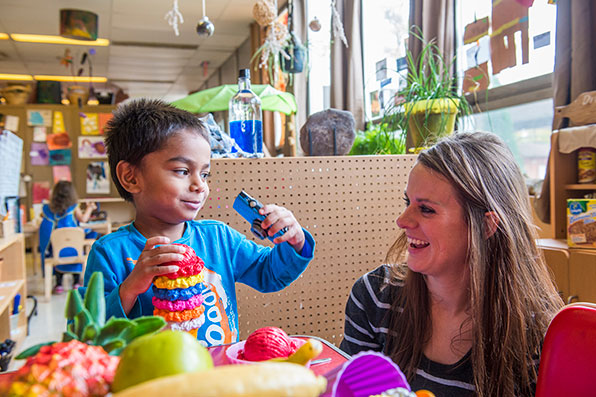 Degree Requirements
The Early Childhood degree program is accomplished by fulfilling the requirements for the Bachelor of Science degree.
Total Degree Requirements:

 

120 credit hours
University Core Curriculum:

 

39 credit hours
Professional Education Sequence:

 27

 credit hours
Electives:

 

54 credit hours

Check out the undergraduate Curricular Guide, which helps you outline what courses you would want to take each semester for all four years. View all related undergraduate courses.
On-Campus Pathway
Our on-campus pathway provides hands-on experience and in-person guidance and support. Work alongside our exceptional faculty to gain knowledge and experience teaching children ages pre-K to 2nd grade. Our comprehensive program will prepare you for a rewarding career in private and state-approved settings.
---
Online Pathway
Our online program will strengthen current skills and develop new skills that will help you build successful careers in Education. Our online courses are taught by the same full-time faculty as our on-campus classes, adding value to convenience.
Off-Campus Pathway
Our off-campus pathway is ideal for those who prefer an in-person learning experience and are far from our main campus. Participate in the joy and challenge of learning to educate our youth through our engaging curriculum, practical application, and concentrated courses.
Our undergraduate completion program is offered at the following locations:
Rend Lake College Marketplace

University Center of Lake County (Coming Summer '23)

Many courses in the early childhood program require acceptance into the Teacher Education Program. The TEP is a carefully constructed sequence of courses, clinical experience and testing over four consecutive semesters.
The TEP leads to licensure as a teacher upon graduation. Advisors provide guidance to each early childhood student throughout their time as an undergraduate to instill the best teaching techniques for rewarding and successful careers.
Educator Licensure
Upon successful completion of the Teacher Education Program (TEP) sequence of courses and clinical work, and all other requirements of of the early childhood program, you may apply for PEL licensure as a teacher under the State of Illinois Professional Educator's License with an endorsement in early childhood.
Advisors in the early childhood education work with you from admission up until graduation to ensure that you are meeting standards and taking the courses required to gain PEL licensure. Required coursework, clinical experience and testing are mapped out by our department to make sure you are ready to apply for your teaching license as soon as you graduate.
Southern Regions Early Childhood Programs
The collaboration between SIU, the Illinois State Board of Education, 19 public school districts in four surrounding counties and the SIU Child Development Lab form the Southern Regions Early Childhood Program (SRECP). Created to benefit students in teacher educator programs as well as children and families in our region, the SRECP oversees pre-k classrooms in public schools, parental training programs and community based childcare centers. SRECP also focuses on birth-to-three early intervention programs and family literacy partnerships.
Along with the many benefits that SRECP provides the surrounding community, students of the early childhood program are able to gain clinical, hands-on experience in a wide variety of settings through practicum and student teaching in the various early childhood settings within SRECP. The Child Development Laboratories at SIU along with pre-kindergarten classrooms and childcare centers in southern Illinois, make up the sites available for early childhood teacher candidates to apply classroom knowledge in real-life situations. Learning from teacher mentors, as well as the children and families that make up SRECP, your education is complemented by everything this grant funded initiative has to offer.
As a student in the early childhood education program, you have the opportunity to be a part of the state sponsored organization, Grow Your Own Teacher program (GYO). This program was formed to encourage non-traditional students to find placement in high-need teaching positions. With a mission to promote diversity, support the advancement of teachers of color and create equity in the new teacher pipeline, GYO also strives to improve early childhood classrooms in low-income and hard-to-staff schools.
Practicum/Clinicals/Student Teaching
The field experience offered in the early childhood program complements the classroom coursework to instill a complete understanding of the techniques and theories involved in this area of education. A well planned sequence of coursework leads into hands-on training where these theories can be implemented. There are a number of classrooms and childcare centers throughout the region that offer mentorship from the teachers already present in those settings as well as a diverse body of students and families to encourage a more integrated experience.
Prior to each practicum, you will learn the proper instructional methods for the age groups involved as well as principles of human development and learning. Taking these theories of early childhood, you will begin practicum work in early childhood classrooms to put your scholarly learnings into action. Practicum experience may be completed at the SIU Child Development Laboratories (CDL) as well as other infant, toddler, pre-k and grade school classrooms.
Clinical experience begins with placement in a classroom of children at the age level for which you wish to begin your career. Observing and working alongside teachers in their classrooms provides intentional and thoughtful experience for each early childhood student to learn from the best in our region. With a wide variety of classroom settings and a diverse community of students and families, you will be able to take topics learned in your own coursework and apply them to various teaching methods.
During your final semester, you will find placement as a full-time student teacher. This final portion of the clinical experience in the early childhood program fully immerses you into a classroom of students to apply the knowledge you have gained so far. Teachers act as mentors to help you learn as you teach and clinical supervisors provide feedback based on observation so that you can continue to learn as you teach before having a classroom of your own.

Accreditation
The early childhood program boasts accreditation by the Council for the Accreditation of Educator Preparation (CAEP). The CAEP accreditation is the only nationally recognized accrediting group in the United States. CAEP accreditation is essential to providing standards for enhanced academics and education in our program. As one of just a few programs in the nation accredited by CAEP, our program is set apart from the rest as a top-notch school to gain the best possible foundation for a career as an educator.
Along with accreditation by the CAEP, our early childhood program is fully approved by the Illinois State Board of Education (ISBE) while SIU as a whole is accredited by the Higher Learning Commission. The curriculum within our program along with the practicum opportunities and guidance from faculty members all contribute to an invaluable education as an early childhood teacher.
Child Development Laboratories
At SIU, the SRECP has partnered with the Child Development laboratories (CDL) to create one of the finest research and training facilities available for students of the early childhood program. For more than 50 years, the CDL on campus has provided a unique and valuable resource to teacher candidates for clinical experience, practicum requirements and student teaching opportunities. Staffed by experienced early childhood educators, with a diverse group of children under their care, the CDL provides hands-on experience with infants and toddlers as well as pre-kindergarten students.
Beyond the benefits to students at SIU, the CDL offers top-notch services to children and families in our community. The relationship between the University, its students and the families we serve, we provide support to young families in the area while creating a trusted location for students of SIU's early childhood program.
The Prevention Initiative Program, for children from birth to age three, focuses on child development and parent support through both home visits and community based group activities. This program also offers classrooms for both full and half day education.
The Parental Training Program, for children ages three to five, places emphasis on encouraging parents in their role as the first and most important teachers to their children and participants help support Preschool For All Teachers, too.
The Preschool for All Pre-Kindergarten program, for children ages three to five, consist of half day and full day classes both at the CDL and in public school in southern Illinois. This program focuses on positive learning environments to provide development to children preparing to attend kindergarten.
Contact Information
Incoming students can also contact Emily Haymans Cook in the Advisors office.