Main Content
Bachelor of Science in Child and Family Services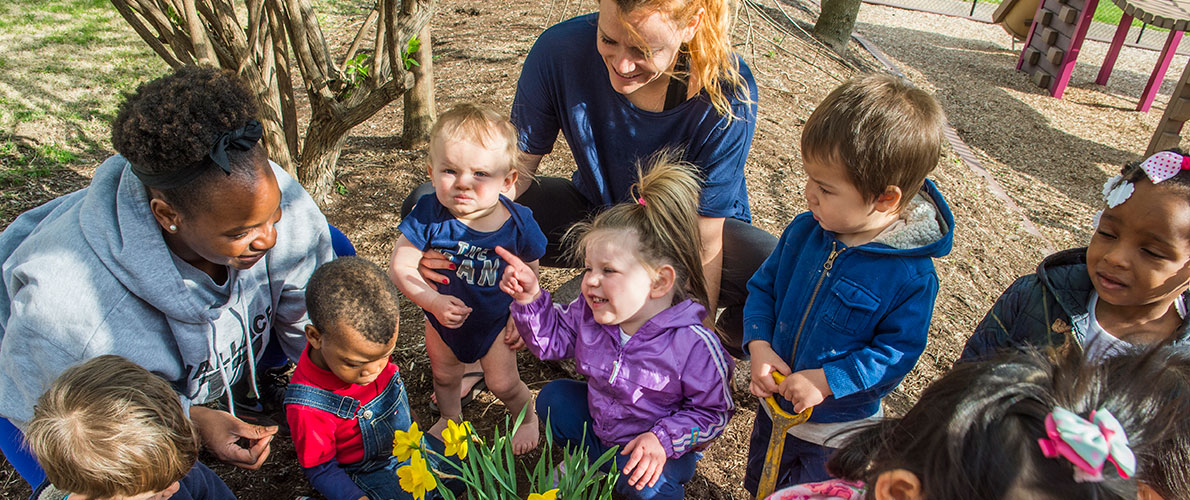 If you have always dreamed of advocating for the health and well-being of children and families, a degree in Child and Family Services will equip you with the tools necessary for a rewarding career guiding, educating and empowering the next generation. The mission of our program is to develop leaders that will create real change in the lives of children and families.
The broad nature of this program of study allows students to learn the disciplines of child development, family studies and social services and apply it to their individual goals and aspirations.
With a degree in Child and Family Services, you have the power to shape your future and personalize your program of study with one of several career tracks. Through relevant coursework and hands-on experiences during clinical practicums, each student is able to curate their degree to begin work in one of the many careers available to Child and Family Services graduates.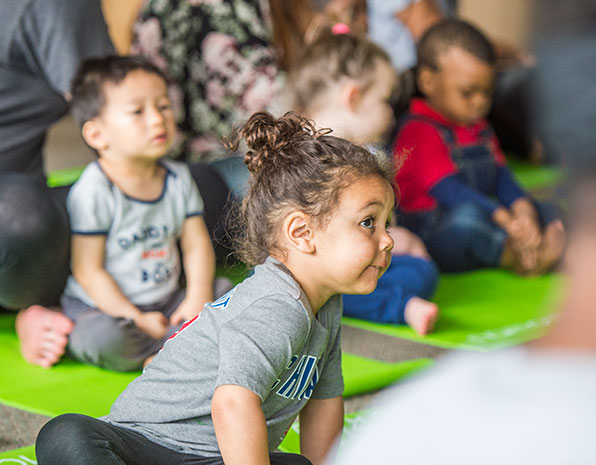 Degree Requirements
The Child and Family Services degree program can be earned by fulfilling the requirements for the Bachelor of Science degree.
Total Degree Requirements:

 

120 credit hours
University Core Curriculum:

 

39 credit hours
Child and Family Requirements:

 

51 credit hours
Recommended Tracks:

 12-15

 credit hours
Electives:

 

15-18 credit hours

Check out the undergraduate Curricular Guide, which helps you outline what courses you would want to take each semester for all four years. View all related undergraduate courses.
Capstone Option
The Child and Family Services program at SIU offers a Capstone Option for students who have graduated from Shawnee Community College with an Associate in Applied Science (AAS) in early childhood education.
Eligible students may earn a BS in Child and Family Services in a shorter time with the Capstone Option. University Core Curriculum requirements are reduced to 30 hours and the entire degree may be completed with just an additional 60 hours total after earning an AAS from Shawnee Community College. This option saves time and money for many students while still providing the essential theoretical and practical knowledge necessary to thrive in this field.
Minor
For students interested in supplementing their main course of study with a basic knowledge of children and family services, our minor program allows you to enhance your education with a flexible curriculum. Whether you are seeking a degree as a teacher or in another field of study, a minor in Child and Family Services is an excellent addition to a degree in education, law, healthcare or counseling, to name a few.
Contact the School of Education Advisement office in the Wham Education Building or by calling 618-453-6340 to find out how you can register for the required coursework and complete a minor in Child and Family Services.
Living Learning Community
At SIU, we value the success and personal development of each students. LLCs provides opportunities for residents with similar majors or interests to live together in shared spaces that create a welcoming and inclusive atmosphere. Academic LLCs are available for students with similar majors and future career goals. Shared Interest LLCs offer shared living spaces for students who have unique backgrounds, extra-curricular activities or are looking for mentorship and camaraderie. In addition to living arrangements, LLCs provide interaction with faculty members, shared meals, mentoring and tutoring and a strong sense of community.
On-Campus Pathway
Our on-campus pathway provides hands-on experience and in-person guidance and support. Work alongside our exceptional faculty to gain knowledge and experience teaching children. Our comprehensive program will prepare you for a rewarding career in a private and state-approved setting.
Off-Campus Pathway
Our off-campus pathway is ideal for those who prefer an in-person learning experience and are far from our main campus.
Our undergraduate completion program is offered at the following locations:
Rend Lake College Marketplace

Career Tracks
A unique aspect of the Child and Family Services program at SIU are the four career tracks available for students to pursue. These career tracks will enhance your education by allowing you to focus your coursework, electives and practical experience on your chosen career path. With Child and Family Services being a broad program with many different disciplines and professional options, these career tracks will allow you to get the most comprehensive education suited to your goals.
Director: To gain Illinois Director credential, for a career in childcare, pre-kindergarten or non-public school programs, the required coursework for this career track will provide insight into accounting, technical writing, business and legal and social environments. The combination of

Child and Family Services

courses along with this professional insight combine to provide you with the tools necessary to lead in a variety of settings.
Child Development Specialist: Careers in child development include infant and toddler teacher, early intervention, Head Start program staff and child life specialist. The courses required focus on language, artistic abilities, disability and diversity, special education and assessment methods. This career track provides a focused approach to the skills necessary to assist in child development issues.
Parent Educator: As a parent educator, graduates often work alongside Early Head Start teachers, as family outreach specialists, with immigration and migrant family services and with adolescent pregnancy prevention. The courses required for the parent educator track include topics such as interpersonal helping skills, positive psychology and human strengths, social services for minority groups and social welfare policy, to name a few.
Social Service Specialist: For the social service specialist career track, the required courses cover important topics in psychology, communication and social work to provide the knowledge necessary to find the career you are looking for. Parent liaisons, family advocates, case managers, adoption and foster care agents and CASA advocates often begin their education with a degree in

Child and Family Services

.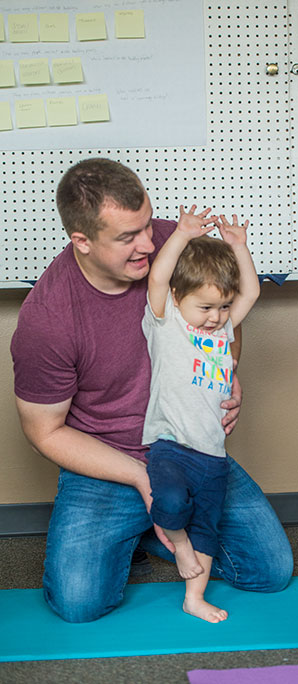 Child Development Laboratories
As a student of the Child and Family Services program, you will have the opportunity to gain hands-on experience in our renowned early childhood education facilities. For more than 50 years, the SIU Child Development Lab (CDL) has provided a unique and valuable resource to Child and Family Services students by offering clinical experience and student teaching opportunities. Staffed by experienced early childhood educators, with a diverse group of children under their care, the CDL provides a multitude of opportunities for community engagement and experiential learning. The CDL is partnered with and operates under the direction of the Southern Region Early Childhood Program to ensure the best pre-service teaching opportunities.
Beyond the benefits to students at SIU, the CDL offers top-notch services to children and families in our community. The relationship between the University, its students and the families we serve, provides support to young families in the area while creating a trusted location for students of SIU's early childhood education program.
Learning and classroom opportunities within the CDL include:
The Prevention Initiative Program to support parents of children from birth to age three.
The Parental Training Program for families with children age three to five.
The Preschool for All Pre-Kindergarten Program with half and full day classrooms.
Practicum and Internships
As a student in the Child and Family Services program you will be required to complete two practicums in our CDL facilities and an internship in a classroom or agency. This hands-on clinical experience allows you to take the knowledge you have gained in your coursework and apply it to real-life situations with a diverse group of children.
Through this unique community engagement opportunity, you will complete a practicum in both an infant and toddler classroom and a pre-kindergarten classroom. By observing the current teachers in their lesson planning, parent education efforts and classroom behaviors, you will receive practical training to take with you throughout your career.
Internships take place during the final year of our program and allow you to immerse yourself in the daily functions of your individual chosen career path. You may work in a classroom atmosphere at one of our CDL facilities where you will observe teaching methods and learn from mentors as you teach. You may also apply for an internship at a social service agency, community childcare facility or early childhood program.
Your internship will create mentoring and networking opportunities and will enhance your knowledge of the skills necessary to work as an advocate for children and families. This practical training opportunity will help guide you in your career choices.
Southern Regions Early Childhood Programs
The Southern Regions Early Childhood Program (SRECP) is a long-standing collaboration between SIU, the Illinois State Board of Education, 19 public school districts in the region and the SIU Child Development Lab (CDL). The SRECP has for many years enabled students in the Child and Family Services program to gain hands-on, practical experience in classrooms of varying age groups and objectives. Learning from teacher mentors throughout practicums, clinical experience and student teaching, you will be immersed in early childhood and pre-kindergarten classrooms and childcare centers to learn first-hand about the many
The SRECP benefits the surrounding community by overseeing pre-k classrooms in public schools, parent training programs in several locations and community based childcare centers. The program also prides itself on providing birth-to-three early intervention programs as well as family literacy partnerships. As a student gaining clinical experience in one of the SRECP settings, you will gain valuable insight from real-life situations with children and families in our region.
Careers
There are a multitude of career options available for graduates of the Child and Family Services program. Our graduates all have a common goal of advocating for children and empowering families.
Upon completing a BS in Child and Family Services, you will be uniquely prepared to work in non-public schools as a teacher of infants, toddlers, preschoolers and primary school age children. Many graduates go on to find rewarding careers as child development specialists in both private and public settings. You may also find success as a family intervention specialist in social service agencies or work as a representative in the Department of Children and Family Services. Parent educators and family literacy specialists are always in high demand within schools and community childcare centers, too.
Other careers in the field of Child and Family Services include healthcare and family wellness professionals, consumer and family resource services and government and public policy. Program directors of early childhood programs often begin their career with a degree in Child and Family Services, as well.
Research Overview
At SIU, a number of faculty research projects are available in which Child and Family Services students may participate. The CDL and other campus facilities serve as research and observation sites in a variety of colleges and departments within SIU. The research performed in our Child Development Labs helps enhance knowledge of child development and early childhood education, especially as it pertains to Child and Family Services. As a student of this program, you will have the chance to be a part of the scholarly processes involved in research projects.
Within the diverse faculty of the Child and Family Services program, several research projects have benefitted both the community and students of children and family services. Dr. Diana Cedeno's research focuses on social exclusion and inclusion among minoritized families. Her research has empowered a number of communities. Dr. Stacy Thompson's research on early childhood development has provided insight into needs of both children and families in this age group.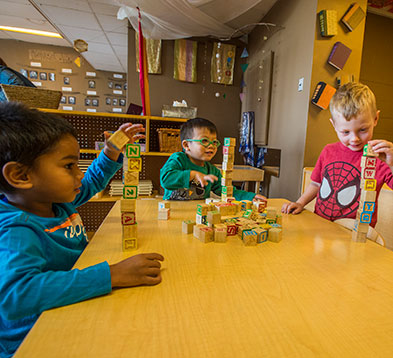 Contact Information
Incoming students can also contact Emily Haymans Cook in the Advisors office.