Main Content
Communication and Media Programs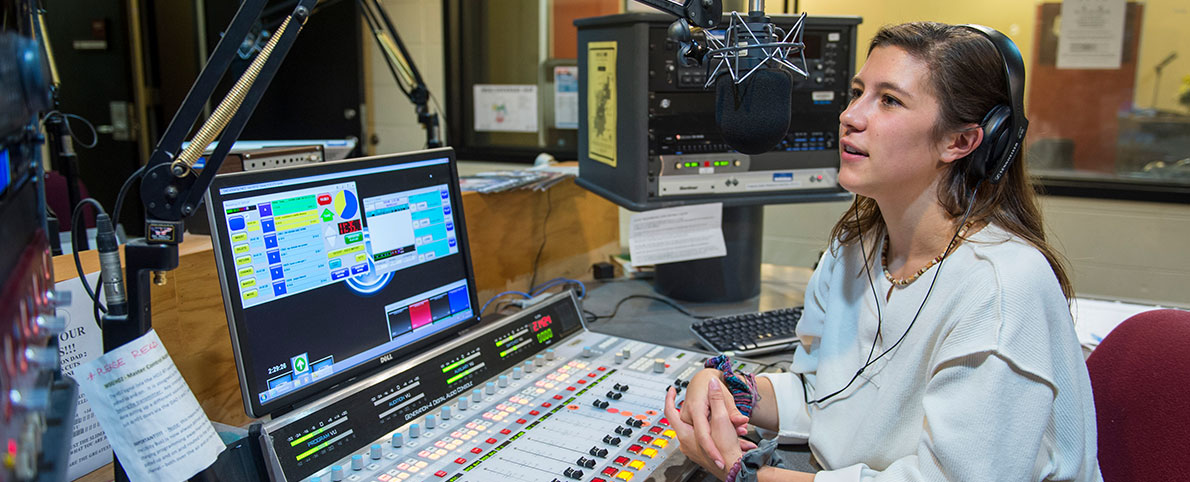 Whether your passion is in cinema, radio, television, journalism or esports, our curriculum allows you to focus on your interests while also exploring opportunities across disciplines.
Our Cinema bachelor's degree program includes minors in Animation, Visual and Screen Cultures, and a specialization in Media Arts. You'll learn practical, do-it-to-learn-it, hands-on skills. And you'll learn cinema theory to help you understand not only where the discipline came from, but where it's going.
Communication Studies explores how society exchanges information across different platforms, and how those interactions affect us. Our wide range of specializations in the bachelor's program give you career options from corporate to community level. For those interested in advanced studies, we offer master's and doctoral degrees.
You can try your hand at news writing, sports media, photojournalism and advertising in this practical, hands-on bachelor's degree program. Workshops, projects and publication opportunities – including the Daily Egyptian, SIU's student newspaper -- round out the expert instruction you'll receive from professionally experienced faculty.
After earning a bachelor's degree in a Communication and Media program, a wide array of career opportunities await students who are passionate about the application and effects of communication through media. With all platforms of communication currently at our fingertips, the study of mass communications is essential to the upcoming generation of professionals in cinema, radio, television, and digital media and journalism. Master's degree and PhD programs are available for students wishing to expand career opportunities or become researchers and faculty.
Digital media. Radio. Television. Electronic journalism and sports news. This program prepares you for careers behind or in front of the camera. For sound and music engineering careers. For the digital journalism frontier. You'll learn technical skills and understand theory for a solid career-focused degree.
Below you can find the program you are interested in and the degrees, minors, and online options offered for that program. You will see some programs have specializations (for undergraduate programs)/ concentrations (for graduate programs) listed. These are focused areas of study.
Program
Bachelor's
Master's
Doctoral
Minor
Online
Cinema
BA
 
 

Cinema
Animation
Visual and Screen Cultures

 
Communication Studies
BS
MA
PhD
 
Specializations/Concentrations:
Public Relations
BS
 
 
 
 
Journalism
BS
 
 
 BS
Specializations/Concentrations:
News-Editorial
BS
 
 
 
 
Advertising and Integrated Marketing Communications
BS
 
 
 
 
Photojournalism
BS
 
 
 
 
Sports Media
BS
 
 
 
 
Journalism and Mass Communication
BS
 
 
 
 
Mass Communications and Media Arts
 
MA, MS, MFA
PhD
 
 
Radio, Television, and Digital Media
BA
 
 

Game Design and Development
Television Studies

 
Specializations/Concentrations:
Digital Media Arts and Animation
BA
 
 
 
 
Electronic Journalism
BA
 
 
 
 
Electronic Sports Media
BA
 
 
 
 
Media Industries
BA
 
 
 
 
Production: Radio/Audio
BA
 
 
 
 
Production: Television/Video Production
BA