Main Content
Communication and Media Programs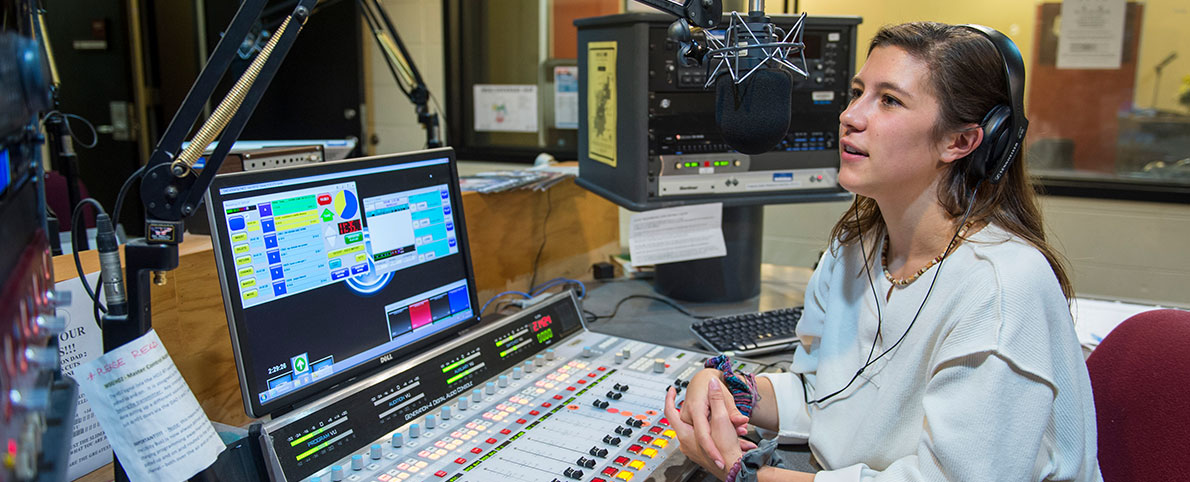 Whether your passion is in cinema, radio, television, journalism or esports, our curriculum allows you to focus on your interests while also exploring opportunities across disciplines.
Both the practical and theoretical studies of cinema and media arts are explored while gaining a Bachelor of Arts in Cinema. An environment geared towards artistic expression in our ever-changing world, this program encourages the formation of creative voices used moving images with technical training in multiple technologies. Cultivate your voice while studying for a career in the visual, media, audio and performing arts.
Stated simply, the study of communication explores how our society exchanges information across different platforms and how those interactions affect us. Small class sizes and nationally recognized faculty members create the perfect environment to hone your skills as an effective interpersonal and organizational communicator. The Bachelor of Science offers six specializations for a wide range of career opportunities and for advanced studies, a Master's degree and PhD program are offered.
Be it sports, photojournalism, advertising or news, the many facets of journalism are open for exploration while earning a Bachelor of Science. Hands-on, practical instruction through the publications, workshops and projects at SIU combine with theoretical studies to provide professional-level training in this growing and diverse field. Several options exist for graduate and post-graduate studies for successful graduates of the journalism undergraduate program.
After earning a bachelor's degree in a Communication and Media program, a wide array of career opportunities await students who are passionate about the application and effects of communication through media.  With all platforms of communication currently at our fingertips, the study of mass communications is essential to the upcoming generation of professionals in cinema, radio, television, and digital media and journalism.  Master's degree and PhD programs are available for students wishing to expand career opportunities or become researchers and faculty. 
For students interested in producing digital media, radio, television, or electronic journalism and sports news, a Bachelor of Arts in Radio, Television and Digital Media offers coursework to foster creativity in professions both behind the camera and in the public eye. Technical, hands-on training as well as analytical studies of current and historical trends in this field ensure a well-rounded education in all areas of specialization. The world-class facilities and instructors at SIU combine to guarantee a rewarding career after graduation.
Below you can find the program you are interested in and the degrees, minors, and online options offered for that program. You will see some programs have specializations (for undergraduate programs)/ concentrations (for graduate programs) listed. These are focused areas of study.
Program
Bachelor's
Master's
Doctoral
Minor
Online
Cinema
BA
 
 

Cinema
Animation
Visual and Screen Cultures

 
Communication Studies
BS
MA
PhD
 
Specializations/Concentrations:
Public Relations
BS
 
 
 
 
Journalism
BS
 
 
 BS
Specializations/Concentrations:
News-Editorial
BS
 
 
 
 
Advertising and Integrated Marketing Communications
BS
 
 
 
 
Photojournalism
BS
 
 
 
 
Sports Media
BS
 
 
 
 
Journalism and Mass Communication
BS
 
 
 
 
Mass Communications
 
MA, MS, MFA
PhD
 
 
Radio, Television, and Digital Media
BA
 
 

Game Design and Development
Television Studies

 
Specializations/Concentrations:
Digital Media Arts and Animation
BA
 
 
 
 
Electronic Journalism
BA
 
 
 
 
Electronic Sports Media
BA
 
 
 
 
Media Industries
BA
 
 
 
 
Production: Radio/Audio
BA
 
 
 
 
Production: Television/Video Production
BA