Main Content
Gemma Wenner

,

Assistant Lecturer
Originally from the Caribbean region, Dr. Gemma Wenner speaks French, Spanish, and English. She loves to travel, and her travels have taken her to 65-different countries, which has enhanced her understanding of cultural heritage, as well as the many economic dynamics that travel stimulates within many different sectors.
Dr. Wenner served in the U.S Army for 7-years, has held many senior level positions in the hospitality field; worked as a Project Manager for the Ritz Carlton as well as owned and operated her own restaurant franchise.
Dr. Wenner attended the University of the Virgin Islands on St. Thomas, U.S., Virgin Islands then went on to obtain a Bachelor of Science in Business from the University of Maryland then followed up with her Masters in Tourism Administration from The George Washington University, Washington, D.C. She has a Doctorate in Management from UMUC. Her research interests include marijuana tourism, agriculture tourism and entrepreneurship.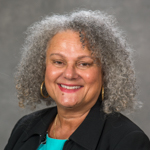 Office: 618-453-5193
Dept: 618-453-3307
gemma.wenner@siu.edu