Main Content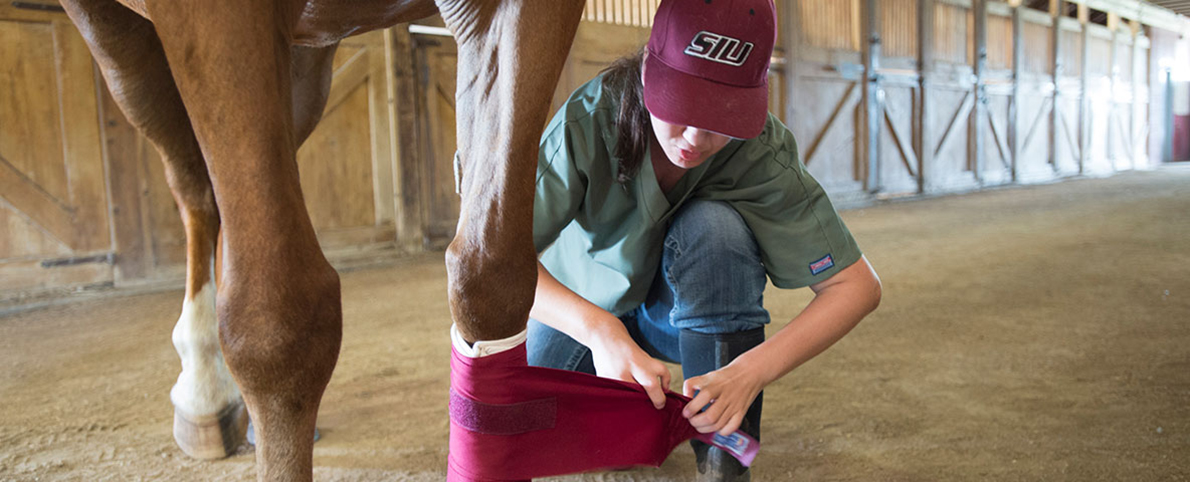 Our classrooms include 2,000-acres of university farms featuring crop and animal production, an equine center, greenhouses and the Shawnee National Forest, plus access to specialized farming knowledge featuring Southern Illinois' wine and fruit country.
There will never be a time people do not rely on agriculture - so job security is not an issue with agribusiness. You will learn sustainable and cost-effective ways to produce and distribute food, fiber, and fuels, being mindful of our agricultural resources and the people who need them.
Advance your agricultural career with a Doctor of Philosophy degree with SIU's comprehensive graduate program in Agricultural Sciences. You will gain expansive knowledge and experience in biological, social, and physical sciences through research and hands-on application. Use your Ph.D. to play an integral part in policy making, education, planning, or research.
Stay on the cutting edge in today's farming and agriculture industries with a degree in this innovative field. You will learn technology in agriculture, biotechnology, power equipment, genetics, food engineering technology and more. We also offer this as a minor to add versatility to your degree and put you above the rest. 
If you love animals; this is the path for you! You'll embark on a range of life science studies and hands-on experience to prepare you for a rewarding career. Choose to specialize in livestock production, equine science, or pre-veterinary medicine.
If you are interested in plants and all it takes to produce an amazing crop year after year, look no further. Learn about ecosystems as a whole and each of the vital aspects necessary for success. This will prepare you for a wide range of careers, from greenhouses to golf course management, and with government agencies.
Beer, wine, distilleries, industrial fermentation, and fermented foods and drinks require acute precision. Our real-world curriculum and research lab will fortify your production and analytical skills, and put you on the fast track for a successful career in these budding industries.
With our ever-growing population, there is an intense need for the analysis, management, and conservation of our natural resources. Pair our experienced educators with the natural classroom of the Shawnee National Forest—and take away an education leading to a rewarding career caring for Mother Nature and making a real difference on this earth.
Delve into the science and art of plants with instruction and hands-on experience in landscape, turf management, and plant production. Careers in horticulture range from private landscape design to government agencies and even learning how to develop crops that thrive in challenging environments.
In this diverse field of study, you explore soil science, ecosystem management, plant genetics, ag technology, environmental impacts on agriculture, and more. Take your skills in almost any direction with this dynamic and practical course of study.
Below you can find the program you are interested in and the degrees, minors, and online options offered for that program. You will see some programs have specializations (for undergraduate programs)/ concentrations (for graduate programs) listed. These are focused areas of study.
Program
Bachelor's
Master's
Doctoral
Minor
Online
Agribusiness Economics
BS
MS
 
 
Specializations/Concentrations:
Agribusiness Economics
 MS
 
 
 
Agricultural Services
 MS
 
 
 
Agricultural Sciences
 
 
PhD 
 
 
Agricultural Systems and Education
BS
 
 

Agricultural Systems and Education
Agricultural Education
Food and Process Engineering Technology

 
Specializations/Concentrations:
Agricultural Systems Tech Management
BS
 
 
 
 
Agricultural Education
BS
 
 
 
 
Agricultural Production Management
BS
 
 
 
 
Agricultural Communications
BS
 
 
 
 
General Agriculture
BS
 
 
 
 
Food & Process Engineering Technology
BS
 
 
 
 
Animal Science
BS
 MS
 

Animal Science
Equine Studies

 
Specializations/Concentrations:
Production
BS
 
 
 
 
Equine Science
BS
 
 
 
 
Pre-Veterinary Medicine
BS
 
 
 
 
Companion Animal Nutrition
Certificate
 
 
 
 
Crop, Soil and Environmental Management (CSEM)
BS
 
 

Crop, Soil, & Environmental Management
Crop Breeding,Genetics and Biotechnology

 
Specializations/Concentrations:
Crop Production & Mgmt.- General
BS
 
 
 
 
Crop Production & Mgmt.- Science
BS
 
 
 
 
Soil Science- General
BS
 
 
 
 
Soil Science- Science
BS
 
 
 
 
Fermentation Science
BS
 
 
 
 
Forestry
BS
 MS
 
 
 
Specializations/Concentrations:
Forest Hydrology
BS
 
 
 
 
Forest Resources Management
BS
 
 
 
 
Forest Recreation and Park management
BS
 
 
 
 
Urban Forest Management
BS
 
 
 
 
Wildlife Habitat Management & Conservation
BS
 
 
 
 
Horticulture
BS
 
 
 
Specializations/Concentrations:
Production Horticulture- General
BS
 
 
 
 
Production Horticulture- Science
BS
 
 
 
 
Landscape Horticulture
BS
 
 
 
 
Turf Grass Management
BS
 
 
 
 
Intensive Controlled-Environment Plant Production
Certificate
Plant, Soil, and Agricultural Systems
 
MS 
 
 
 
Specializations/Concentrations:
Crop Science
 
MS
 
 
 
Soil Science
 
MS
 
 
 
Horticultural Science
 
MS