Main Content
Music and Theater Programs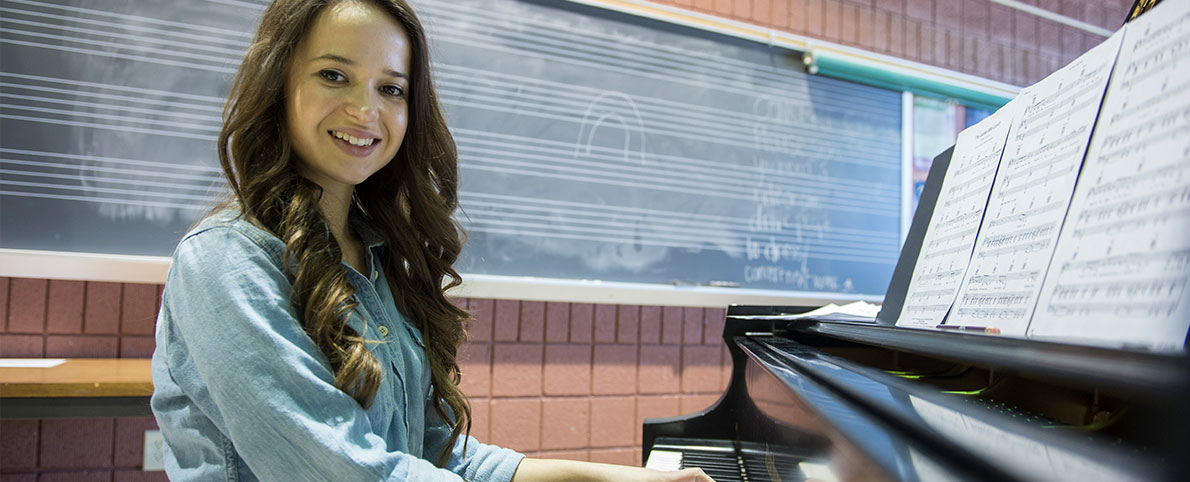 Gain experience with a fully functioning, on-campus theater production company as well as small chamber ensembles, large concert bands, jazz ensembles, choral groups, orchestras, opera, musical theater and a marching band.
For musicians eager to achieve performance proficiency and expertise in musical theory, both the Bachelor of Arts and Bachelor of Music offer concentrations in every facet of musical performance from opera to orchestral conducting. A Master of Music degree is offered for the advanced study of musical performance and education.
Acting, playwriting, theatrical design, directing and technical production make up the wide array of specializations available for undergraduate and graduate students. You have the opportunity to participate in performances from day one. A degree in theater provides valuable theoretical instruction and immersion into the world of performing arts.
Our musical theater program prides itself on being a diverse yet tight-knit group of students and faculty members, eager to explore the talents of all who participate in this field of study. We focus on training you in the arts of singing, dancing and acting. This program is the perfect foundation for a successful career in the performing arts profession.
Below you can find the program you are interested in and the degrees, minors, and online options offered for that program. You will see some programs have specializations (for undergraduate programs)/ concentrations (for graduate programs) listed. These are focused areas of study.
Program
Bachelor's
Master's
Doctoral
Minor
Online
Music
BA, BM
 MM
 
 
Specializations/Concentrations:
Collaborative Piano
MM
 
 
 
Music Business
BA
 
 
 
 
Music Education
BM
MM
 
 
 
Music History and Literature
 
MM
 
 
 
Music Theory and Composition
BM
MM
 
 
 
Opera/Music Theater
MM
 
 
 
Performance: Choral Conducting
MM
 
 
 
Performance: Guitar
BM
MM
 
 
 
Performance: Instrumental
BM
MM
 
 
 
Performance: Keyboard
BM
 
 
 
Performance: Orchestral Conducting
MM
 
 
 
Performance: Vocal
BM
MM
 
 
 
Performance: Wind Conducting
MM
 
 
 
Musical Theater
BFA
 
 
 
 
Theater
BA
 MFA