Main Content
Meera Komarraju

,

Provost and Vice Chancellor for Academic Affairs; Professor
Applied Psychology
Dr. Komarraju holds doctorates in Industrial/Organizational Psychology (1983, Osmania University, India) and Applied Social Psychology (1987, University of Cincinnati, Ohio). She has taught in the Departments of Psychology and Management at SIU since 1986, at the graduate and undergraduate levels. She has also taught in Hong Kong and Singapore for the Dept. of Management's off-campus executive MBA program. Courses taught include: Introductory, Social, Personality, Child , Cross-Cultural, Industrial/Organizational Psychology, Research Methods, Introduction to Management, Business Statistics, as well as Managerial and Organizational Behavior. Her research interests focus on work attitudes, work-family linkages in dual-career couples, cross-cultural psychology, and academic motivation.
Graduate Advisees
Chad Briggs
Representative Publications
Komarraju, M., Musulkin, S., Bhattacharya, G. (in press). Role of student-faculty interactions in developing college students' academic self-concept, motivation, and achievement. Journal of College Student Development.
Komarraju, M., Karau, S., & Schmeck, R. (2009). Role of the Big Five personality traits in predicting college students' academic motivation and achievement. Learning and Individual Differences, 19, 47-52.
Komarraju, M. (2008). A social-cognitive approach to training teaching assistants. Teaching of Psychology, 35, 327-334.
Komarraju, M., Dollinger, S. J., & Lovell, J. L. (2008). Individualism-collectivism in horizontal and vertical directions as predictors of conflict management styles. International Journal of Conflict Management, 19, 20-35.
Komarraju, M., & Karau, S. J. (2008). Relationships between instructional techniques and academic motivation. Journal of Instructional Psychology, 35, 70-82.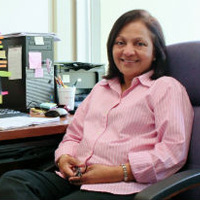 Office: Faner Hall, 2427
Phone: 618-453-2466
meerak@siu.edu
Curriculum Vitae
Educational History
Ph.D., Osmania University, India
Ph.D., University of Cincinnati