Main Content
Kathleen Chwalisz

,

Professor and Program Director
Counseling Psychology
Dr. Chwalisz's research interests fall in two main tracks: (a) health psychology and integrated health care, including rehabilitation psychology and family caregiving, and (b) teaching and training, including training of psychologists, faculty multicultural competence, and multicultural mentoring.  She also has interests in psychotherapy science and qualitative research methodology.  She has edited a book on rural caregiving and has numerous peer reviewed articles and chapters in professional books in counseling psychology, health psychology, and rehabilitation psychology.
She has served as President of the Council of Counseling Psychology Training Programs, and she has been Chair of the Society of Counseling Psychology's Section for the Promotion of Psychotherapy Science and Section for Counseling Health Psychology. Her research articles have appeared in the Journal of Counseling Psychology, The Counseling Psychologist, Rehabilitation Psychology, Journal of Personality and Social Psychology, and Journal of Psychology in Medical Settings. She has served on several Journal editorial boards, and she is currently an Associate Editor for the Journal of Clinical Psychology. She was principal investigator on the SIU Rural Caregiver Telehealth Intervention Trial, a community-based intervention trial sponsored by the National Institute of Aging and the National Institute of Nursing Research. Teaching and clinical interests are in supervision, case conceptualization and treatment planning, psychological assessment, and evidence-based practice.  Dr. Chwalisz is a Fellow of Division 17 (Society of Counseling Psychology) and Division 22 (Rehabilitation Psychology) of the American Psychological Association.
Representative Publications
Chwalisz, K., Zvonkovic, J.*, Washington, K. T., Vanhusen, L. A., & Cavalhieri, K. (2016, August).  An evidence-based practice approach to integrated health care in a student health center.  Paper presented in K. Chwalisz (Chair), Health service psychology on college campuses:  Models, strategies, training, and research at the Annual convention of the American Psychological Association, Denver, CO.
Chwalisz, K., & Zvonkovic, J. (2016).  Counseling women who are caregivers.  In M. Kopala & M. Keitel (Eds.), Handbook of Counseling Women (2nd Ed.).  Thousand Oaks, CA:   Sage.
Chwalisz, K. (2010, February).  Grant-funded Community-based Practice Opportunities:  Putting the Boulder Model to Work for Your Students. Invited paper presented at the Council of Chairs of Training Councils (CCTC) Joint Conference of Training Councils in Psychology, Orlando, Florida.
Chwalisz, K., & Clancy Dollinger, S. (2009). Evidence-based practice with family caregivers. In R. G. Frank, B. R. Caplan, & M. Rosenthal (Eds.,) Handbook of rehabilitation psychology (2nd Ed.). Washington, DC: American Psychological Association.
Chwalisz, K., & Obasi, E. (2008). Promoting health and preventing and reducing disease. In S. Brown & R. Lent (Eds.), Handbook of counseling psychology (4th Ed.). New York: Wiley.
Chwalisz, K., Shah, S. R., & Hand, K. M. (2008). Facilitating rigorous qualitative research in rehabilitation psychology. Rehabilitation Psychology, 53, 387-399.
Chwalisz, K., Patel, N., & Chu, S. P. (2008, March).  Positive and negative multicultural supervision: A task analysis.  Poster presented at the International Counseling Psychology Conference, Chicago, Illinois.
Chwalisz, K. (2003). Evidence-based practice: A framework for twenty-first century scientist-practitioner training (Major Contribution). The Counseling Psychologist, 31(5), 497-528.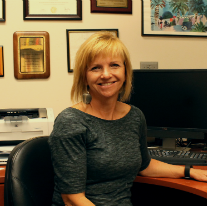 Office: Life Science II, 208E
Phone: (618) 453-3541
Email: chwalisz@siu.edu
Curriculum Vitae (PDF)
Educational History
Ph.D., University of Iowa