Main Content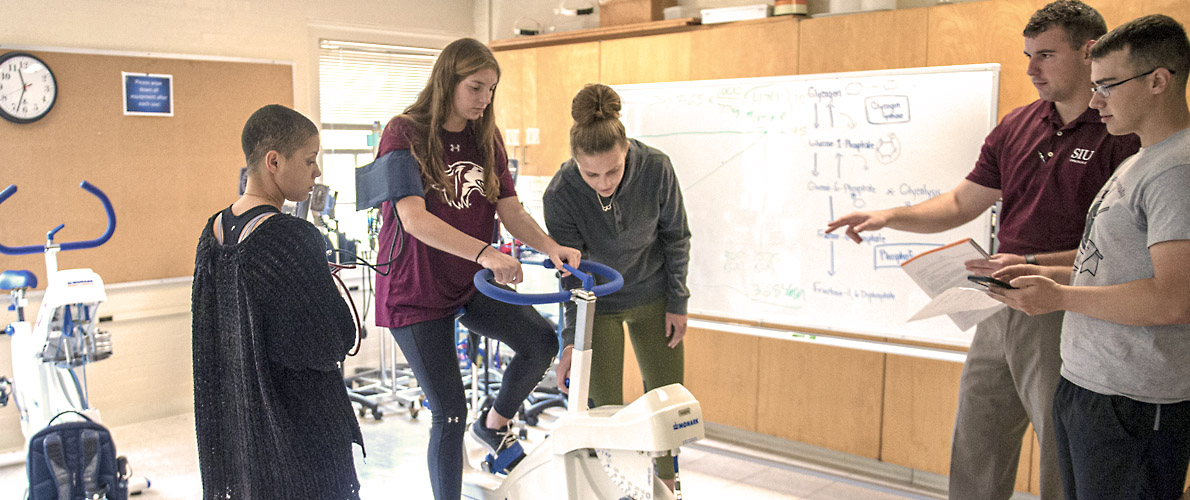 Kinesiology is the study of body movements and how they affect wellbeing. A graduate degree in kinesiology is your ticket to an interesting career in a diverse and growing field. It is one of the largest industries in the world, employing millions of people in the United States alone.
According to the U.S. Bureau of Labor Statistics, the job market's anticipated growth rate for kinesiology master's degree graduates was 27% between 2014 and 2024 and the national average wage exceeded $55,000.
The Saluki kinesiology master's education melds research opportunities, the most current technical training from our experienced faculty, unique practical experiences and internship opportunities beyond compare.
Concentrations
We offer two kinesiology graduate tracks:
Exercise Science
Sport Studies
Our Exercise Science program incorporates in-depth study of biomechanics, physiology and motor behavior. Our Sport Studies program focuses on sport management and the social psychology of sport.
You can also earn a Gerontology Graduate Certificate, preparing you for a rewarding career working with older adults in a variety of settings.
Learn by doing.
There's nothing quite like hand's-on experience and we offer ample opportunities. You can join our experienced faculty in research that matters. Get involved in helping cancer survivors and their caregivers get a new lease on life through the Strong Survivors exercise and nutrition program. Obtain a teaching or research assistantship.
We can also connect you with great internship options. Saluki Athletics, St. Louis Cardinals, Chicago White Sox, Chicago Bulls, Milwaukee Bucks, St. Louis FC and the Southern Illinois Miners are just a few of the places our students have gotten to intern.