Main Content
Geology
Education
B.S. 1964, Clarion State University
M.A. 1971, Indiana University
Ph.D. 1974, Indiana University
Teaching:
GEOL 220The Dynamic Earth (Physical Geology)
GEOL 436

 

 

Applied Geophysics
GEOL 437 Field Geophysics
GEOL 440 Advanced Topics in Geological Sciences
GEOL 537 Applied Seismology
GEOL 535 Advanced Topics in Geophysics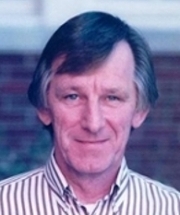 Office: 210 Parkinson Lab
Phone: 618-453-7374
Fax: 618-453-7393
sexton@geo.siu.edu
Curriculum Vitae
Research Interests
My group of students and I have conducted and are continuing work in four different research areas.
 
1) The first research area involves using both 2D and 3D seismic reflection data collected for oil exploration purposes. We have completed one 3D seismic reflection study (Samantha Kroenke) of the Herald-Phillipstown fault in the Wabash valley fault zone. We continue to research various aspects of that dataset. We also have several 2D seismic reflection profiles (Chamila Ranaweera) that are related to investigating a carbonate mud-mound in the Wabash Valley area. Another 2D dataset involves effects of crooked line data acquisition (Jacob Smelker) on seismic reflection interpretation and velocity analysis. Our research is supported by Royal Drilling and Production Company.
 
2) The second research area is ongoing earthquake related studies in the Wabash Valley and the New Madrid seismic zones. This involves seismic reflection, georadar, gravity, magnetic, and electrical resistivity surveys and data analysis, along with drillhole data, to study faulting, geomorphic features and sandblows that may be related to earthquakes, and to try to estimate the age of most recent fault movement (Ryan Anderson). These studies also involve investigating crustal structure in the Illinois Basin to determine if the shallow faulting may be related to the deeper faults.
 
3) I have a renewed interest in studying some older seismic data from Lake Superior to study crustal structure.
 
4) Occasionally we have done (and plan to do) geophysical studies at the Cahokia Mounds Archaeological site (Yvonne Griffin; Dominic Smith).