Main Content
Sajal Lahiri

,

Professor, Distinguished Scholar and Vandeveer Chair
Environmental Resources and Policy - Economics
Research Interests
International trade
Development
Environmental economics
Public finance
Education
Ph.D., Indian Statistical Institute, 1977
Fields: International Trade, Development, Environmental Economics and Public Finance
Selected Publications
"Competition and Innovation in Product Quality: Theory and Evidence from Eastern Europe and Central Asia," The B.E. Journal of Economic Analysis and Policy, 2014 (with Fatma Nur Karaman)
"On the Substitutability between Foreign Aid and International Credit," Economics Letters, 2013 (with Subhayu Bandyopadhyay and Javed Younas).
"International Joint Venture with Double-Sided Moral Hazard: Payment Arrangements and Credit Constraints," Oxford Economic Papers, 2012 (with Chifeng Dai).
"Trade and Domestic Tax Reforms in the Presence of a Public Good and Different Neutrality Conditions," with P. Hatzipanayotou and M.S. Michael, International Tax and Public Finance, forthcoming.
"International Business Alliance Under Asymmetric Information:  Technology vis-à-vis Information Advantage," with Chifeng Dai, Southern Economic Journal 77, 2011, 599-622.
Editorships
Founding Editor,

 

The Review of Development Economics
Associate Editor,

 

Bulletin of Economic Research
Associate Editor,

 

Economics Bulletin
Editorial Board for

 

Ekonomia
Editorial Board for

 

Review of Development Finance
Editorial Board for

 

Economic Research International
Editorial Board for

 

Arthaniti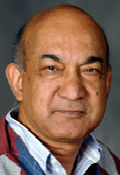 Office: Faner Hall 4130
Phone: 618/453-9472
Email: lahiri@siu.edu