Main Content
Kristen Barber

,

Assistant Professor
Environmental Resources and Policy - Sociology
Dr. Barber is Associate Professor of Sociology and Director of the Women, Gender, and Sexuality Studies Program. She received her Ph.D. from University of Southern California and joined the SIU faculty in 2011. Her expertise lies in the sociology of gender with a focus on masculinities, culture, and work. Barber's research is guided by questions about what everyday boundary-crossing behavior can teach us about complex systems of inequality. Her book, Styling Masculinity: Gender, Class and Inequality in the Men's Grooming Industry is published by Rutgers University Press; and her 2019 co-authored textbook, Gendered Worlds 4th Edition, is published by Oxford University Press.
Barber is Co-Editor (with Tristan Bridges and Joseph Nelson) of the journal Men and Masculinities and current Chair for the ASA section on Race, Gender, and Class. She has served on the Gender & Society Editorial Board and as an elected member of the American Sociological Association's council for the section on Sex and Gender and the section on Sociology of the Body & Embodiment. She is on the Editorial Board of Contemporary Sociology and has served as a grant reviewer for the National Science Foundation.
Books
Gendered Worlds 4th Edition (Oxford University Press 2019) is a foundational textbook that introduces students to the topic of gender and sexuality as they operate in conjunction with race, ethnicity, and class. The text stands out for its global focus, which helps students to see how gender operates around the world in patterned and political ways. And while the chapters emphasize social problems and inequalities, they also present state, institutional, and interactional level efforts to improve our social environments and our lives.
Styling Masculinity: Gender, Class, and Inequality in the Men's Grooming Industry (Rutgers University Press, 2016) traces the network of economic and social relations that undergird the burgeoning men's beauty industry. Bringing together scholarship on consumption with the sociology of service work, Barber theorizes the "labor of consumption" to explain how women working in high-end men's salons become cultural brokers for their heterosexual white clientele. This work exploits women who constantly wrestle with the organizational demands that set them up as gendered persons before skilled workers. These findings inform Barber's discussion on the limited potential of the "new man" rhetoric. At the same time, she shows how the women's work not only props up these men's privileged identities but also allows them to be creative and to carve out professional dignity.
Findings from this research were also published in Gender & Society, here.
*Styling Masculinity made the New York Times' 2016 List of "Stylish Reads," here, and has also been mention in Playboy, Mel Magazine, The Atlantic, The Houston Chronicle, and more. Barber has talked about her research on The Matt Townsend Show, WPR's Central Time, NHPR's Word of Mouth, and NPR's Marketplace.
Current Research
Barber is working with Dr. Kelsy Kretschmer (Oregon State University) on a study of men's participation in feminist protest and in progressive campus organizations. This work continues Barber's focus on men and masculinity in conventionally women's spaces, as well as on work within gendered organizations. Using the long-running Take Back the Night marches and the more recent SlutWalk events as case studies, Barber and Kretschmer have explored how shifting boundaries around who can participate in sexual assault protests shape feminist movement messages about equality. This work is published in the journals, Mobilization and Contexts.
Barber second vein of research looks at how gender, class, and race shape experiences of and options during disaster. See this work in Sociological Spectrum and Race, Gender & Class.
Areas Of Specialization And Interest
Gender and Sexuality
Social Inequalities
Sociology of Culture
Work and Organizations
Qualitative Methodology
Disaster Research
Select Publications
Kristen Barber. Forthcoming, 2020. "Good-Looking Men Require Hard-Working Women: The Labor of Consumption in the Grooming Industry." In Handbook of the Sociology of Body and Embodiment, edited by Natalie Boero and Kate Mason. New York, N.Y.: Oxford University Press.

Sharon Oselin and Kristen Barber. 2019. "Borrowing Privilege: Status Maneuvering Among Marginalized Men." Gender & Society 33(2): 201-223.

Chelsea Johnson and Kristen Barber. 2018. "The Gender and Sexual Politics of Hair," In A Cultural History of Hair in the Modern Age, edited by Geraldine Biddle-Perry. London, U.K.: Bloomsbury Publishing.

Kelsy Kretschmer and Kristen Barber. 2018. "The 'Man Question' in Feminism." In Nevertheless They Persisted: Feminisms and Continued Resistance in the U.S. Women's Movement, edited by Jo Reger. London, U.K.: Routledge.
Kristen Barber and Tristan Bridges. 2017. "Marketing Manhood in a 'Post-Feminist' Age." Contexts 16(2): 36-41.
Kelsy Kretschmer and Kristen Barber. 2016. "Men at the March: Feminist Movement Boundaries and Men's Participation in Take Back the Night and SlutWalk." Mobilization 21(3): 283-300.
Kristen Barber. 2016. "'Men Wanted': Heterosexual Aesthetic Labor in the Masculinization of the Hair Salon." Gender & Society 30(4): 618-642.
Kristen Barber and Timothy J. Haney. 2016. "The Experiential Gap in Disaster Research: Feminist Epistemology and the Contribution of Local Affected Researchers." Sociological Spectrum 36(2): 57-74.
Shiloh Deitz and Kristen Barber. 2015. "Geographies of Inequalities: Urban Renewal and the Race, Gender, and Class of Post-Katrina New Orleans." Race, Gender & Class 134159.
Kristen Barber. 2015. "Styled Masculinity: Men's Consumption of Salon Hair Care and the Construction of Difference." In (Re)Theorizing Masculinities, edited by C.J. Pascoe and Tristan Bridges. Cambridge, U.K.: Oxford University Press.
Ronald E. Hallett and Kristen Barber. 2014. "Ethnographic Research in a Cyber Era." Journal of Contemporary Ethnography 43(3): 306-320.
Kristen Barber and Kelsy Kretschmer. 2013. "Walking Like a Man?" Contexts: Understanding People in their Social Worlds. 12(2): 40-45.
Kristen Barber. 2008. "The Well-Coiffed Man: Class, Race, and Heterosexual Masculinity in the Hair Salon." Gender & Society 22(4): 455-476.
Kristen Barber. 2006. "Sex and Power." In Introducing the New Sexuality Studies: Original Essays and Interviews, edited by Steven Seidman, Nancy Fischer, and Chet Meeks, 59-63. London, U.K.: Routledge.
Courses Taught
Undergraduate
Women & Men in Contemporary Society
Elements of Sociological Research Methods
Men and Masculinities
Sociology of Gender
Graduate: M.A. and Ph.D.
Social Research Methods and Design
Qualitative Methodology
Gender and Work
Teaching Sociology
Feminist Theories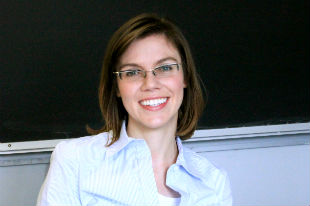 Office: Faner Hall 3436
Phone: 618-453-7633
barber@siu.edu