Main Content
Environment and Sustainability Programs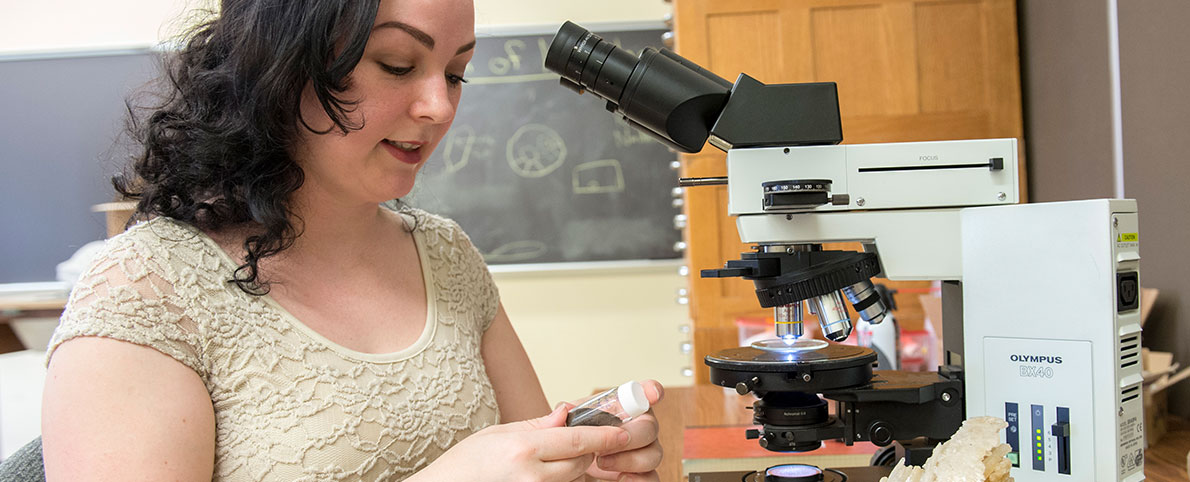 Are you interested in finding sustainable solutions to environmental problems? We offer programs to address the most pressing environmental issues facing society while using the beautiful outdoors of Southern Illinois as a classroom.
The physical, biological and social processes that effect our natural resources and environment are the focus of the Environmental Resources and Policy PhD program. Through intense research and inter-disciplinary training, students focus on environmental hazards and sustainability in one of eight different concentrations during their studies. Learn to address both the economic and environmental needs of the future with this advanced course of study.
Students eager to embark on a career in the outdoors can choose from a variety of concentrations while earning a Bachelor of Science in forestry. A variety of customizable programs are available with hands-on training in topics such as ecological restoration, forest resource management, fire science wildlife habitats and soil science, all within the beautiful landscape of Southern Illinois.  Continued studies are offered in the Master of Science and Ph.D. programs to broaden career opportunities for forestry majors.
The relationship between nature and society is the basis of the Geography & Environmental Resources undergraduate and graduate programs.  Through the studies of environmental geography and sustainability, geographic information science and climate and water resources, students focus on the physical and social science of natural resources.  Outdoor field work, laboratory research and internship opportunities create a well-rounded course of study. 
Become an integral part of the resolution of global environmental issues such as pollution, non-renewable energy sources and groundwater protection in the geology undergraduate program. With a popular 6-week capstone experience each summer in Montana and Wyoming, as well as a focused curriculum and top-notch research facilities, this degree delivers.  A diverse and highly qualified team of faculty members, instructors and researchers expertly guide students earning a Bachelor of Science or Master of Science in geology.  
The Environmental Studies minor is an excellent complement to any major, and serves to enhance your career opportunities. You will expand your viewpoint and gain new skills for environmental analysis.
What better way to supplement your degree than with a minor that offers a greater understanding of our world. Especially useful for those with degrees in related fields, our courses expand students' understanding of the connection between society and natural resources.
A GIS Minor provides students with an understanding of the fundamentals of geospatial techniques and analytical skills, including earth-map relationships, cartography, remote sensing, digital processing, and spatial data representation and modeling in GIS.
A Minor in Sustainability enables students to expand their knowledge and understanding of the long-term sustainability of the earth's resources and "green" energy.
Below you can find the program you are interested in and the degrees, minors, and online options offered for that program. You will see some programs have specializations (for undergraduate programs)/ concentrations (for graduate programs) listed. These are focused areas of study.
Program
Bachelor's
Master's
Doctoral
Minor
Online
Environmental Resources and Policy
 
 
PhD
 
Specializations/Concentrations:
Climatology
 
 
PhD
 
 
Earth and Environmental Processes
 
 
PhD
 
 
Ecology
 
 
PhD
 
 
Energy and Mineral Resources
 
 
PhD
 
 
Environmental Policy and Administration
 
 
PhD
 
 
Forestry, Agricultural, and Rural Land Resources
 
 
PhD
 
 
GIS, Remote Sensing, and Environmental Modeling
 
 
PhD
 
 
Water Resources
 
 
PhD
 
 
Environmental Studies minor
 
 
 
Forestry
BS
 MS
 
 
 
Specializations/Concentrations:
Forest Hydrology
BS
 
 
 
 
Forest Resources Management
BS
 
 
 
 
Forest Recreation and Park management
BS
 
 
 
 
Urban Forest Management
BS
 
 
 
 
Wildlife Habitat Management & Conservation
BS
 
 
 
 
Forest Resources Management
 
MS
 
 
 
Recreation Resource Management
 
MS
 
 
 
Wood Science and Technology
 
MS
 
 
 
Geography and Environmental Resources
BS
MS, Certificate
 

Geography and Environmental Resources
Sustainability
GIS

 
Specializations/Concentrations:
Environmental Geography and Sustainability
BS
MS, Certificate
 
 
 
GIS
BS
MS
 
 
 
Geology
BA, BS
MA, MS, Certificate
PhD
 
Specializations/Concentrations:
Environmental Geology
BS
MA, MS
 
 
 
Geophysics
BS
 
 
 
 
Resource Geology
BS
 
 
 
Geospatial Analysis
 
MA, MS
 
 
 
Earth Science
 
Certificate