Main Content
Jenny Pape

,

Assistant Professor of Practice
Radio, Television, and Digital Media
Jenny Pape is an Associate Professor of Practice for Audio Arts at Southern Illinois University Carbondale, where she teaches courses in Music Production, Podcast and Broadcast Audio, Audio Documentary, Sound Art, Music Business, and Entertainment Industries.
She also serves as the advisor for the student run record label, Digidog Records. In 2022 she released her latest album, We Are For Egypt, a grant-funded collaborative project, with Egyptologist, Stacy Davidson, that commissioned new songs and reimagined traditional songs about the Southern Illinois Egyptian Identity. She produced the album, as well as wrote and performed, alongside several Southern Illinois songwriters. The album was a part of a larger historical project which is now featured in the SIUC'S Morris Library's Special Collections and Virtual Exhibit. She is a recipient of the Best of Festival Winner in the Broadcast Education Association's 2016 Festival of Media Arts Competition. Her students have gone on to place 2nd and 3rd, respectively, in the Audio Engineering category of the Festival of Media Arts Competition in 2020 and 2022. She wrote, produced, recorded, and performed her 2017 MFA Thesis, Makanda Ballads: Media Practices in Rural America, which included the production of a musical album, Ballads of Makanda: A Modern Folklore.
Jenny Pape is also a singer/songwriter and producer of multiple albums released commercially, and she continues to perform across the Midwest both solo and with her group, Miss Jenny and The Howdy Boys.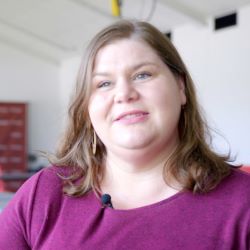 Office: COMM 2219
Phone: 618-536-7555
jennypape@siu.edu
Education
M.F.A., Media Arts, Southern Illinois University, 2017
B.A., Musical Theater, Southern Illinois University, 2009