Main Content
Vicki Kreher

,

Senior Lecturer
School of Journalism and Advertising
Victoria Kreher's classroom experience is infused with decades of award-winning experience from both the business management and the creative sides of multiple media organizations. Because of her broad experience in customer service, personal selling, publicity and promotions, as well as in newspaper, radio, television, magazine and digital media, she has taught nineteen different courses in the School of Journalism and Advertising. She has advised students in the Master of Science – Professional Media and Media Management program and has served as Interim Director of Graduate Studies. She has advised and guided multiple student organizations within and outside of her department and college. In Fall 2013, she earned an M.B.A. with a concentration in Management Information Systems from SIU College of Business.
During her career, Kreher worked with numerous clients from sole proprietorships to Fortune 500 firms and is considered a small business advertising expert. She continues consulting in the areas of social media management and website development through her classes and private consulting.
At Suburban Newspapers of Greater St. Louis (SNGSL), Kreher managed the business side of seven city and county publications, regularly winning awards for staff performance. She was ultimately promoted to the corporate level to manage the largest revenue-generating division which served all 39 of the corporation's St. Louis holdings.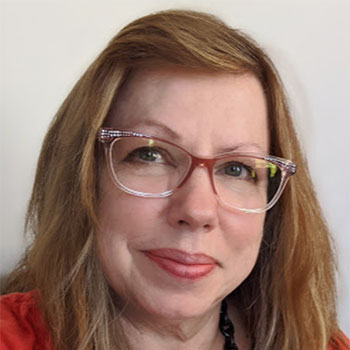 Office: COMM 1236A
kreher@siu.edu
At the St. Louis Post-Dispatch, Kreher managed established market-wide publications and developed several new niche magazines. After coming to SIU, she and students founded UNleashed Magazine, a student lifestyle publication with the motto: "Students free to explore and create." More than 100 students from across campus were involved in the experience that included coordinating campus-wide and community events, in addition to managing every aspect of the publication of a free distribution magazine and the creation and management of the magazine website.
She has developed several games for use in the classroom to teach students to learn to uncover the needs of clients; to think more creatively and strategically; and to understand the importance of the visual impact of typefaces. "Students learn best when they don't realize they are learning."
Kreher thinks the best part of teaching is preparing students for life after graduation and then watching them succeed after they leave SIU.
Her current interests include design thinking, observing the impact of tech innovation on media and vintage sewing machine repair.
Courses
JRNL 302 Advertising Copywriting
JRNL 303 Creating Advertising IMC Messages
JRNL 305 Direct Response Advertising
JRNL 160 Mass Communications and Society
---
Education
M.B.A., Southern Illinois University