Main Content
Doctor of Philosophy in Business Administration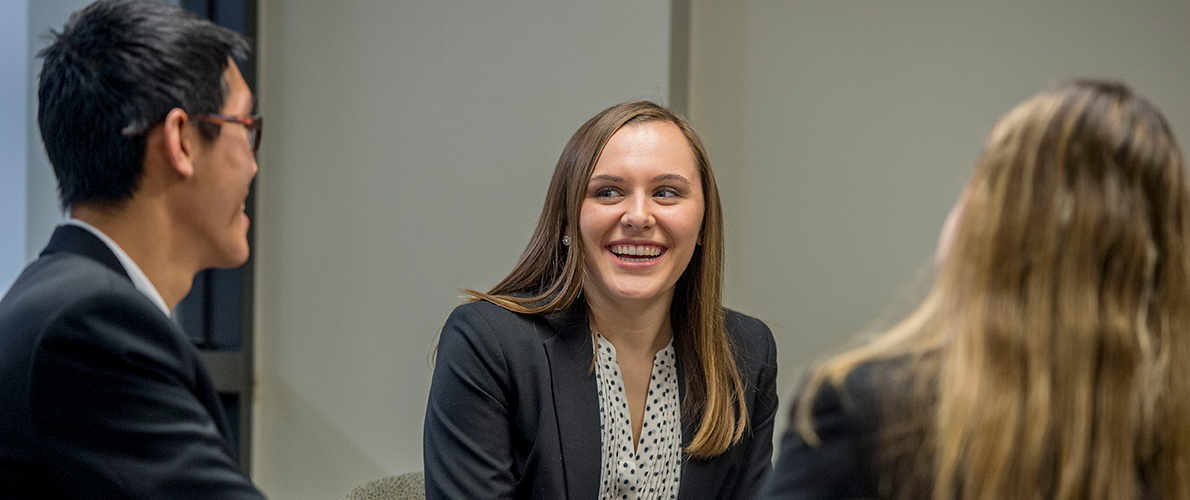 Our Ph.D. in Business Administration program is designed mostly to prepare individuals for research and teaching positions at academic institutions. The program is fully accredited by AACSB International and offers specialization areas in accounting, finance, management, and marketing.
Graduates typically devote four years to full-time residential in-person study that includes coursework and developing a rigorous research dissertation that makes an original contribution to the knowledge in the graduate's chosen field of study. Detailed requirements for earning a Ph.D. can be found in the SIU Graduate Catalog.
Students in the program must complete course work in certain foundation areas. A student who has completed successfully the requirements for the M.B.A. degree from an AACSB International accredited graduate business program will have met the foundation requirements.

The student must complete a prescribed program of doctoral coursework beyond the foundation work. A minimum of 60 credit hours is required: 12–18 credit hours in the major field; 6–12 credit hours in a support field; 6–12 credit hours of research tools; and 24 credit hours of dissertation credit. Additional credit hours may be required as prescribed by the student's program advisory committee (PAC).
Admissions
To be eligible for admission, students must have a satisfying performance in GMAT or GRE and completed a master's degree or its equivalent. A grade point average in all graduate-level work of 3.5 is preferred, but not less than 3.0 is permitted for admission.
In certain instances admission to the Doctor of Philosophy in Business Administration degree program directly from the baccalaureate degree is permitted. To be considered for this admission route, students must have demonstrated the promise of success in the Doctor of Philosophy in Business Administration degree program through outstanding achievement at the undergraduate level (minimum grade point average of 3.5 on a 4.0 scale) and superior performance in both the verbal and quantitative components of the Graduate Management Admission Test (minimum GMAT score of 600).
Areas of Interest:
Our doctorate program is designed to prepare individuals for faculty research and teaching positions in academic institutions and for high-level administrative or staff positions in business, government, and other organizations. Candidates for the Doctor of Philosophy in business administration degree must demonstrate in-depth knowledge of business and administration and a high potential to undertake significant research.
This research allows students to work one-on-one with faculty on a variety of projects. Specific areas of research in the area of Finance include corporate finance, investment and asset pricing, market microstructure and behavior finance. General areas of research in Management are human resources, organizational behavior, entrepreneurship, and strategy. Marketing and Accounting faculty members conduct research in marketing strategies, digital marketing, auditing, taxation, financial accounting and behavioral accounting, to name a few. All the areas of research overlap with business analytics these days given the size of the dataset and the tools and mechanisms used in analyzing the data.
Specifically, our program allows PhD candidates to specialize in several areas, including:
Accounting: Our doctoral program prepares individuals to teach and conduct research across a wide variety of specializations, including management accounting, auditing and assurance services, taxation, accounting information systems, and financial reporting.
Finance: The doctoral program in Finance equips students with the research methodology and broad knowledge needed for conducting cutting-edge in-depth research and outstanding teaching in various areas within Finance such as corporate finance, investment and asset pricing, market microstructure and behavior finance.
Marketing: The objective of the doctoral program in marketing is to provide the student with comprehensive, in-depth coverage of the field of marketing, leading to career options in teaching, research, and service in academic, government, and industrial environments.
Management: The program provides students with a solid foundation in management, organizational behavior, and strategic management. Together with these research-based seminars, students may also be exposed to areas of entrepreneurship, organization theory, leadership and motivation, operations management, and social networks. A critical component of our doctoral program in Management also includes courses in statistics and research methods.
Assistantships
Doctoral assistantships are available for qualified individuals and involve a half-time commitment, 20 hours a week on average, to a teaching assignment or research support in one of the four academic programs mentioned above. Graduate Assistantships carry a stipend and a tuition waiver, therefore, there is a requirement to be enrolled in at least eight (8) credit hours of coursework each spring or fall semester.
For more information on stipend amounts, contact the College's Graduate Programs office at 618-453-3030. Tuition and Fees for College of Business and Analytics students can be found at the Graduate School's website.
Careers
Though a doctoral degree in business administration from Southern Illinois University mostly prepares graduates for academic positions, it can also be for senior leadership roles such as C-level and organizational management positions in corporations, nonprofits, and government agencies.